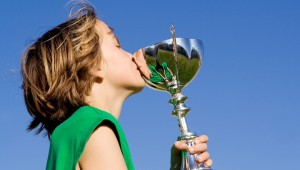 It's annual report season—and awards season! What better time to get inspired by nonprofits that are publishing exemplary online annual reports? These organizations show the powerful results you can get when you revamp your annual report process. If you get inspired by their example, get started on your annual report using our free nonprofit annual report template.
Following on the heels of the Academy Awards, I'd like to share some noteworthy online annual reports in five categories:
1. Category: Best Donation Generator
Winner: charity:water
This nonprofit is an inbound marketing rockstar and a Hubspot user, so it's no surprise that they're setting the bar for other organizations. Their annual report is comprised of all live content, and it's all one page, with internal anchors to help you find sections. They start off with the three clear key performance indicators they know will wow their supporters: dollars raised, water projects funded, and people with clean water as a result of their work.
Scroll down or use the on-page menu and there's a video recap to enjoy, summing up their year's successes. Viewing the report on a mobile device is a great experience, as all of the contents cascade down the screen in one fluid, easy-to-scroll page. (Bonus: check out our Facebook photos of Yodelpop staff carrying heavy jugs of water across the stage in the "charity: water challenge" at Inbound 2013!)
2. Category: Best Messengers
Winner: Girls Inc.
Try to listen to Girls Inc. participants tell their stories of transformation without crying. It's impossible. This annual report, published as online, multi-page content with a separate downloadable PDF, does a great job of putting the beneficiaries of the organization's work forward as the most authoritative messengers about the program—and their own achievements.
In photos throughout the report, as well as in the featured videos, they tell stories of overcoming abuse, stereotypes, and poverty. In every story, the dominant feeling is hope and love—because every girl's story centers on what they've been able to achieve with the support of their local Girls Inc. chapter. That's a good move when you're publishing an annual report. Donors are interested in the problem, but they want to see clearly that they're contributing to a solution, and to real positive results for real people. This report also does a great job of incorporating calls to action; on every page, a "Donate" button calls out to the user to act on the good news they're seeing, and keep those success stories coming.
3. Category: Best Year's Highlights
Winner: Kiva
To all the greatness of a one-page, online annual report (like charity:water's), Kiva adds an amazing timeline that takes users through highlights of the year. It's compact, scrolling to the right without taking up more space on the page. It adds a sense of motion and expanse to the report. And it does a great job telling stories of success.
Though one of the things that makes this feature so cool is its technology, you don't necessarily need that technology to mimic the timeline approach—even a static timeline layout will do, with a large photo and a short story of impact for each month. A great way to follow in Kiva's footsteps is to generate a new success story every month, publish it as a blog post in real time, and gather those up for your annual report. Learn more about using an annual report template and an ongoing, all-year process to "work smarter" when producing your report.
4. Category: Best Bold Move to Digital
Winner: Salvation Army
Okay, I'll stop gushing about this annual report pretty soon. I just think it's admirable that:
(1) the Salvation Army was able determine that nobody opened about half the 28,800 printed annual reports it sent to 7,000 field offices every year
(2) the organization acted on that information by going digital
In 2009, for the first time, they produced a paperless annual report that includes videos as well as interactive financials and statistics. They've kept up that trend, and now the videos are also used as television PSAs and community presentations. Talk about getting a lot of mileage out of your annual report. Clearly, for this organization, the annual report isn't a one-off or an obligation, but part of a continuum of channels they're using to get their message out and generate support.
5. Category: Best E-Book
Winner: Michael J. Fox Foundation
This annual report does a lot with a little, in terms of technology. The report is just a PDF that you can access via their website. It starts with a high-impact infographic that fulfills one of the most important functions of an annual report: it demonstrates impact. Lots of photos with captions throughout show donors engaged in meaningful and fun work. The financials at the end of the report are bold and simple, driving home one main point: the foundation spends a lot on program and very little on administration.
On the downside, by publishing solely as a PDF, this foundation is missing out on some of the benefits of live content—but much of the report's content is on their website as well, in different places. The only active link in the PDF appears to be to the place on the website where you can … download the annual report.
The bulk of the report is a list of names of donors (the same is true of Girls Inc., above). It's a pretty old-school approach, and not one that would be taken by, say, charity:water, which gets donors to generate their own publicity by enlisting others in their fundraising. But as a medical foundation, the Michael J. Fox foundation has a fairly high average donation from individuals, which may make it more conservative in donor relations.
If you're inspired or motivated by any of these annual reports and want help getting started on yours, this free digital annual report template is a good place to start.
Happy reporting!