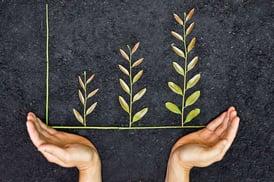 You have a pretty simple goal: get more patients. Unfortunately, you probably know that your phone won't start ringing an extra 10/20/30 times today, so you'll need to get creative. You may even already be considering tactics for how to get more patients online, but are not sure where to start.
Good news: You came to the right place.
When you want to use your website to increase appointment requests and get more patients coming through your doors, there are a lot of things to consider. Your ideal patients are making snap judgments the second they hear your name, visit your website, or see your Facebook post, so how can you ensure that they'll want to schedule an appointment with you?
Here are three ways to get more patients by using your website.
Optimize Your Website for Search
As great as appointment referrals are, the truth is that most people turn to search engines when making decisions, especially when it comes to scheduling an appointment. The key part of this process is that your website actually needs to show up in search engine results when your ideal patients are using them.
There are a few different ways to do this, but the best and proven process is clear:
Keyword r

esearch - Identify a list of terms (keywords) patients use in search engines when they think of your field. For example, if you were a dentist in Milwaukee, you would make note of terms like "Milwaukee dentist" or "teeth cleaning in Milwaukee."
Start a blog -

A healthy blog is a fundamental step in getting more traffic to your website. Use the list of keywords you created to write content around the topics and terms your ideal patient cares about. Done right, these posts should show up in search engines.
Update your website -

Take your list of keywords and see which ones you can include organically throughout your site. Note: Avoid "keyword stuffing," which is basically including keywords over and over just for the sake of showing up in search results. Search engines are smart enough to see your game there, and they will punish you for it.

When you optimize your website for search, be sure to think of everything you do from the user's perspective.
If search engine optimization (SEO) is a fairly new concept to you, check out this blog post for some of the worst SEO advice I ever received and what you can do instead.
Optimize Your Social Media
Not only do your patients look to search engines before scheduling an appointment, but they turn to social media as well. Networks like Facebook have a built-in review system that attracts potential visitors, and many search out information on Twitter or even YouTube.
If these people find your profiles on social media, you have a limited window to present yourself as the right fit for them. In short, your social media needs to be fully optimized to capture these potential appointments.
Here's a list of things to check off when ensuring your social media is optimized:
Consistency - Each of the platforms you are on should be consistent with the next. Have the same/similar profile image (your logo works best), use background/cover images that have the same look and feel, and make sure all of the information

you

provide is correct (phone number, website, address, etc.).
Content - Are you consistently sharing interesting content on your channels? You should be sharing your own content (that blog we talked about earlier) as well as other content your audience would find interesting.
Opportunit

y

- When people come to your Facebook page, for example, how easy is it for them to schedule an appointment with you? You can use a built-in call-to-action (CTA) from Facebook or include a link in your description. Either way, you should be giving your social audience plenty of opportunities to schedule an appointment.
Provide a

Unique

and Valuable Experience
This is one of the most important things that you can do: stand out. I'm sure that you and your staff do whatever you can to ensure your patients are comfortable and even delighted with your service, but what about your website?
Camille is co-founder at Yodelpop and is web and creative director, as well as designing strategies, processes and programs around the HubSpot growth stack system. Camille lives in Highland Park, Illinois, with her husband and two sons. She was president of her high school theater guild and still enjoys a little drama from time to time.