Digital Marketing Trends: What We Are Learning from the Pandemic
Created by Cat Capellaro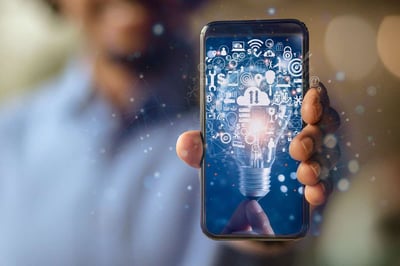 It's been a long pandemic.
It's often tempting to describe COVID-19 in past tense because we all are so eager to put it behind us. But the virus is not gone. A million souls are lost, the economy is hurting, and communities and schools have been disrupted to the point of crisis.
Today, instead of the fear, confusion, and worry that had us scrubbing down our groceries in early 2020, we have a prolonged sense of weariness. All the pivoting is exhausting. Some days, it's been enough just to put on pants and feed ourselves.
The effects of the pandemic on our psyches and culture will last for generations. But as spring bloomed and the pandemic shifted to a different level, I began to feel hope growing.
A recent conversation with Yodelpop co-founders Jackie Lalley and Camille Winer confirmed my belief that in our corner of the world — digital marketing — we can use our recent experience to learn and grow as we help other organizations do a better job of providing content, engaging, and delighting visitors and members.
The following are some of the takeaways from that hopeful conversation.
Seeking Better Online Experiences
For many people and organizations, the pandemic sparked a major realigning of priorities and goals. We're learning how to connect better virtually and to use all the tools at our disposal to create online experiences that help make up for some of the lack of in-person interactions.
Organizations that previously had mainly local or regional audiences are increasing their connections with people around the globe. And we're seeing an explosion of online learning opportunities.
Expanded Podcasting and Video Options
We're witnessing a golden opportunity for ramping up and diversifying content options, including podcasts, video, and virtual meeting spaces. Research by our partners at Hubspot found that 53% of professionals find podcasts and other audio content to be effective, and 80% plan to invest more budget in podcasts and audio.
Quality and Authenticity
When it comes to digital events, webinars, and virtual conferences, the stakes are being raised. Many people have "screen fatigue," so engaging them means increased investment in production values so we're not watching grainy video shot against people's kitchen cupboards.
That said, you can improve your video quality without breaking the bank because what people are really seeking is authenticity. They don't care about slickness; they want to see the human stories shining through.
Mobile and Bite-Sized Options
These days, some people don't have the time or bandwidth to read a lot of content. They're walking their dog or cooking dinner, just doing their lives. That's where enhancing audio and video options can really help create more openings for engagement.
There's a learning trend called microlearning, or bite-size learning, that is showing much promise in our attention-challenged world. The idea is just like it sounds: Break the content into small chunks, units, or activities. This type of learning strategy helps keep people engaged and helps them retain and absorb more information.
Centering Users
Having a great website has always been important, but now it's mission-critical. Unless people have an excellent user experience, they will leave a site. Each page has a job to do, and you should understand who your visitors are in order to provide them with content that will engage and delight them.
We use supporter personas, semi-fictional representations of ideal supporters and participants, to help create content for nonprofits. It really helps to have an idea of who you're writing for.
Expanding Options for Engagement and Training
Nonprofits and membership organizations are discovering new ways to provide and market online training and education.
One of the most important lessons of the pandemic is that we are capable of working and learning online. Even audiences that were previously resistant to the idea of online learning had to shift their attitude; it became a necessity.
In a conversation Jackie had with Paul Stark, communications director at the Association of University Technology Managers, they talked about the way the organization is using more targeted marketing and video to solidify bonds with members.
We're working with nonprofits that are looking to expand their digital training offerings. Some had dabbled in online training prior to 2020, but the pandemic helped them see the potential for expanding the audience for their educational content, sometimes to an international scale.
They're looking to differentiate themselves from competitors by creating great learning management systems.
Undertaking Smarter Marketing
This is not the time for half measures. There has never been a better time to step back and notice what is working and what isn't in the "buyer's journey."
Think about the Journey
We all need to create and share more truly engaging and delightful content, and to slow down enough to fix what isn't working.
We use Hubspot's flywheel approach to inbound marketing as a metaphor for the journey a person takes when they first encounter your business or organization. It's all rooted in the strategy of attracting, engaging, and delighting visitors.
Create Delightful Membership Experiences
We work with many nonprofit membership organizations and professional associations, and we're learning more every day about how to attract new members and supporters and provide valuable content and experiences to existing members.
When people have positive experiences on your website, learn something valuable, or feel inspired, they are more likely to come back — or to take another step toward belonging to a community.
Work on Alignment
Successful organizations have a shared language. When workers are scattered away from offices, working remotely, it's more important than ever to be on the same page when it comes to brand marketing. Many nonprofits are using a brand platform to make sure that everyone on the team, internally and externally, understands the goals of the marketing program.
Coping with the Great Resignation
Another trend that has accelerated is people quitting their jobs. Some are calling it the Great Resignation. As a result, there is an increased demand for agencies like ours that can help bridge the gap and help organizations meet staffing needs.
Without a doubt, having an excellent digital presence and digital marketing strategy takes resources and requires expertise. The current labor shortage means it's time to be smart and creative about when to use in-house staff and when to work with a reputable agency.
Grappling with Diversity, Equity, and Inclusion
In a similar way to the pandemic laying bare our health care disparities, many responsible organizations are doing some soul-searching about how to distance themselves from a legacy of violence, racism, and inequality in some quarters and to move forward into a more inclusive, welcoming future.
That includes the marketing industry. We're super encouraged by the work of The Brand Lab, an organization striving to connect high school and college students of color to paid internships and opportunities in marketing and advertising. Their goal is to have "rising stars enter workplaces that are free from bias and exclusion."
Upping the Game
One of the silver linings of the pandemic is the way it forces all of us to focus us on what's right in front of us. By necessity we became more flexible and self-aware—and that has spilled over to organizations and marketing.
We don't really know what things will look like even a year from now. But know this: The pandemic has made it clear that everything that goes online needs to be the best it can be.
For Yodelpop, it's meant looking inward and innovating, saying we've got to make our engagement better — for clients and potential clients. We can't miss the opportunity to delight and engage them.
We have to make it better.
Cat Capellaro is a writer at Yodelpop. She is a musician, playwright, and journalist whose work has included serving as arts and culture editor of Isthmus in Madison, Wisconsin, managing editor of Rethinking Schools, and reporter for Wisconsin Public Radio and WORT-89.9 FM.