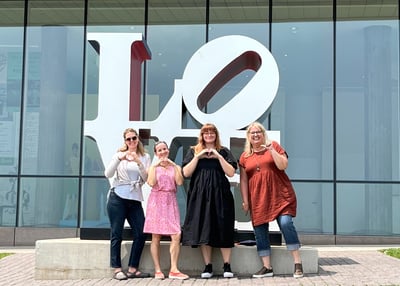 The Yodelpop team's recent trip to the Milwaukee Art Museum was not only a chance to bond as a team, but also a chance for our brains to recharge and expand.
One question we asked ourselves was, "if our brand could be represented by a work of art, which one would it be, and why?"
Which artwork do you think represents the yodelpop brand?
Jackie Lalley:

My answer is the Georgia O'Keeffe painting "Pelvis 1," and here's why: Yes, it uses colors from our brand palette, and it has a clarity and crispness to it which also fits with our brand. But the reason it represents us is that this is actually a painting of an animal's bone, with the bright blue sky viewed through one of the openings.
Because what we do when we work with organizations is to reveal their subject matter expertise in new and compelling ways, finding new perspectives on the issues they care deeply about. We create new stories to tell about the work that they care so much about, so that they can draw more people to help advance their important missions.

Cori Albrecht:
I was drawn to this Lesley Vance painting, "Untitled." At first, it was because of the bold, pleasing colors.
And then, as I looked at it more intently, I liked that it is deceivingly simple, yet NOT. Everything is intertwined and relational.
The pink ribbon/thread has constant motion and kind of evokes the marketing flywheel in that there's no real beginning nor end, and it ties all of the elements together into one ecosystem as you follow it throughout the painting.
Audrey Perelshtein:
I chose the artwork "Union II" by Yaacov Agam. When you first view the artwork, it may look like an ordinary abstract piece. But if you adjust the angle you look at it from, you see two different pieces entirely.

It reminded me of the power of nonprofit marketing, and why our work at Yodelpop is so meaningful. Digital marketing has the ability to change the way people perceive and look at things. It has the potential to transform a seemingly ordinary story into something extraordinary, capturing the attention (and ideally support) of those who see it.
Every organization has a unique and incredible story. Our approach to nonprofit marketing is about uncovering and framing that powerful story in a way that resonates most with the organizations' ideal supporters.
Camille Winer: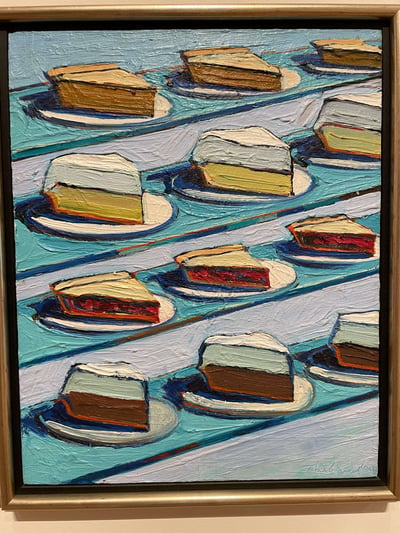 For me, the answer is "Refrigerator Pies" by Wayne Thiebaud. This piece takes me back to a defining moment 13 years ago when Jackie and I sat in an Argo Tea in Chicago, scribbling our vision for Yodelpop on a napkin. Our goal was to make marketing more fun and accessible and to use our creative talents to make the world a better place.
The vibrant colors in the painting symbolize the journey we've been on, while the pies remind me of our first tagline, "distinctively delicious." And the way the pies are displayed reminds me of our mission to help teams create quality, consistent marketing that truly represents their brand and resonates with their audience.
We're so grateful for the journey we've had, the amazing team we've built, and the incredible clients we get to work with. Here's to many more years of making marketing magic together!
Audrey is account manager at Yodelpop. She is a full-stack marketer with in-depth marketing and communications experience. She earned a bachelor's degree in communications at the University of Wisconsin-Madison. In addition to strategizing, planning, and overseeing success for numerous Yodelpop clients, she manages Yodelpop's own digital marketing. She also leads our summer internship program!