How to Use the HubSpot Chatbot for Inbound Marketing (and More)
Created by Camille Winer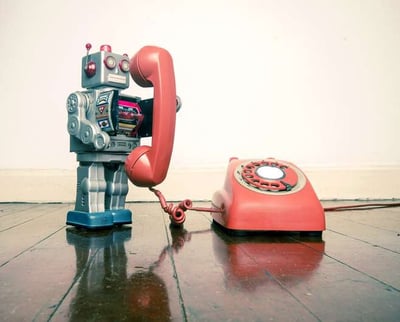 If you're a HubSpot user, you've probably noticed a new(ish) item in your portal: Conversations. This is essentially HubSpot's chat tool, and with it, you can do both live chat (staffed by a member of your team) and add automated chat, AKA chatbots, to your website.
Way back in 2016, HubSpot cofounder Brian Halligan called chatbots "the biggest wave we've seen in technology in the last two decades" while speaking at the INBOUND conference. And yet many teams still aren't using chatbots, fearing they take a lot of resources to set up or, worse, that they'll somehow "take over" — and damage — their relationships with leads. But none of those things are true. The fact is, chatbots are at your service, they're integral to inbound marketing, and they free up your team for the marketing activities best done by a human.
In short, if you can set up an FAQ page, you can set up a chatbot.
In this blog, I'll explain how chatbots fit into inbound marketing and show how the HubSpot chatbot works. (If you still have questions, feel free to contact Yodelpop to set up a demo.)
Why is there a chatbot in my marketing software?
In the past, chat technology has been thought of as a sales tool. But artificial intelligence (AI) has increased the overlap between marketing and sales. More and more, both leads and customers expect to have immediate access to your team in order to have their questions answered, not just to win their business, but to retain them as customers.
That's why, in order to talk about the addition of the Conversations tool in HubSpot, we need to understand it as part of the shift from the inbound marketing funnel to the inbound marketing flywheel. HubSpot unveiled its chatbot in the middle of a seismic shift in the inbound marketing paradigm — the retirement of the marketing funnel and the adoption of the flywheel. Halligan gave a compelling explanation of this paradigm change in his INBOUND18 keynote, "Grow Better By Moving From The Funnel To The Flywheel."
The evolution of the customer journey
At Yodelpop, we're no strangers to the inbound marketing methodology. In 2012, we became a HubSpot certified agency and adopted the methodology as a driving force behind our work for mission-driven organizations and businesses. At that time, the inbound marketing methodology was presented as a funnel. Inbound marketing was about turning strangers into promoters of a brand / service / product through the buyer's journey – by carrying out a set of marketing activities: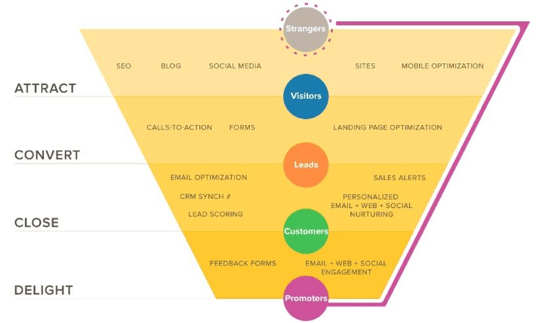 At Yodelpop, we created some of our own graphics of the funnel for our mission-driven clients, such as this one showing how mission-driven organizations could engage people in their work:

In 2015 we created this one, which foreshadowed HubSpot's own change to presenting the inbound methodology as a circle or flywheel: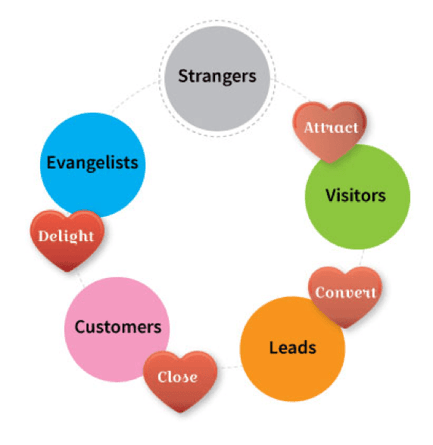 Three years later, Halligan announced the end of "Ye Olde Funnel" and excitedly unveiled the flywheel at INBOUND18.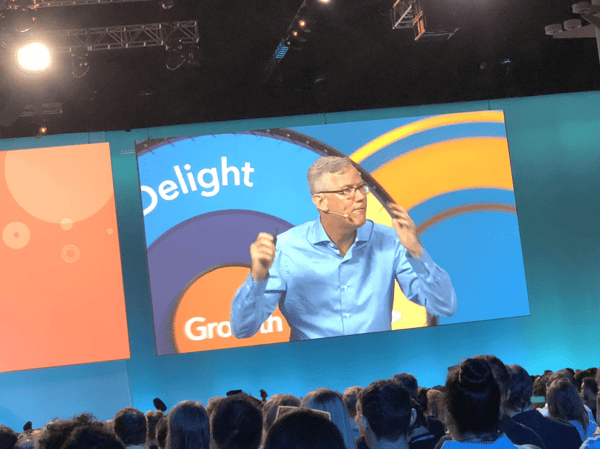 The inbound marketing flywheel, shown below, demonstrates the evolution from a linear model of lead generating to closing deals to an infinite circle that continues the cycle into sales and customer delight. Inbound marketers are now shifting resources to be distribute them throughout the entire customer experience, even after deals are closed.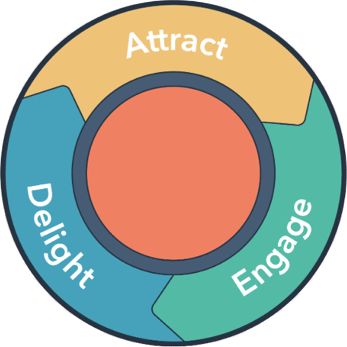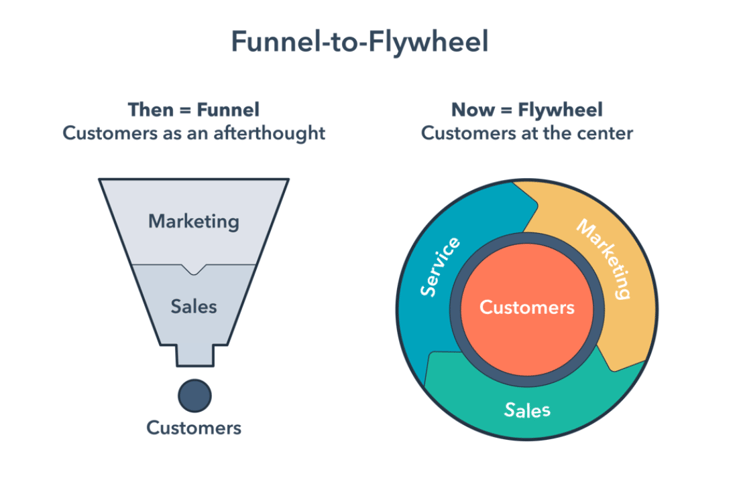 Now, we have a tool in HubSpot that helps us put the customer at the center of inbound marketing, sales, and service, and that tool is Conversations.
HubSpot introduces 'Conversations'
In fall of 2017, HubSpot announced that they would soon launch a free tool, giving HubSpot users the tools they need for multi-channel, one-to-one communication at scale.
Given that more and more users are moving across different channels and mediums, it's predicted that by 2020, 30% of our interactions with technology will be through "conversations" with smart machines. Conversations was developed to enable communication using the method preferred by an increasing number of prospects, customers, and supporters.
Using the tools in Conversations, you can:
Connect email channels used by your organization to communicate with prospects or customers, for example: "info@mycompany.com" or "service@mycompany.com."
Centralize and streamline communication through those channels with prospects and customers.
Create individual tickets from your dashboard, a contact record, or your conversations inbox where you can organize all of your customer inquiries in one place and track trends over time.

This is where Conversations ties to the Service tab of the portal where you will find Tickets.
You can also automate the process using workflows and the support form.

Connect a chat channel to answer questions on your website with a chat widget.
You can create two different kinds of chat:

Live chat: create a chat prompt with no associated bot to send visitors directly to your live sales team.
Bot: create an automated chat bot that are programmable — depending on the questions the user asks, the chatbot can provide set responses that can include links to other resources. This is great for providing your visitors with resources that help answer their question right when they need it, instead of waiting for a response from a contact form or an email.
Much of what's under Conversations is free within any HubSpot portal, and overlaps with tools under the Service tab. However, the tools with the Conversations come with a variety of settings to customize for your team's situation, including notification preferences so that you can get the right messages to the right people on your team. While basic Conversations tools come with each HubSpot subscription package, there are features that require additional HubSpot pricing.
HubSpot's Conversations tool breakdown & levels of access
Let's walk through the features of the Conversations tab to find out how you can incorporate this powerful tool into your marketing flywheel and what levels of access are available in your organization's HubSpot portal.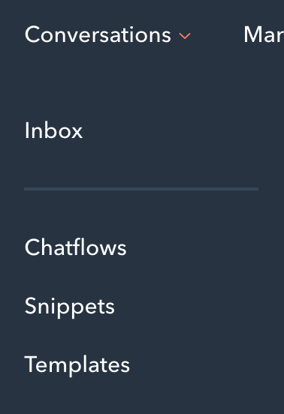 Inbox: Free with HubSpot portal
Description: Manage sales and support messages from chat conversations that are going on on your site, or messages coming from your prospects or customers through a shared email address, such as "support@mycompany.com."
Levels of Access:
To add more than 1 email inbox, such as "info@mycompany.com," you'll need Sales Pro, which gives you 10 inboxes
Team email = Free with HubSpot portal
Chatflows: Free with HubSpot portal
Description: Start live chat channels, or build and customize a variety of bot types to automate
Levels of Access:
Live chat is free with your HubSpot portal

To assign incoming conversations to a team member per chatflow, you'll need to upgrade to Sales Starter

Conversational bots

Limited to lead qualification, meeting booking, and ticket creation bots, with no custom branching logic except for Enterprise Sales which includes custom branching logic, programmable bots, and webhooks
Snippets: Free with HubSpot portal
Description: Save time writing emails and taking notes by creating shortcuts to your most common responses in emails sent to prospects and notes logged in your CRM. Quickly send emails and log notes without having to type the same thing over and over.
Levels of Access:
Up to 5 templates; for more than 5 templates, upgrade to Sales Starter
Templates: Free with HubSpot portal
Description: Templates are pre-made emails that you can send to contacts and personalize, without having to type the same content each time.
Levels of Access:
Up to 5 templates; for more than 5 templates upgrade to Sales Starter
Adding chat to your inbound marketing program
The Conversations tool makes it easy to add chat from a technological perspective. It's important before you start any new marketing activity to understand how it fits into your plan and who on your team will be implementing it. If you'd like help, please contact Yodelpop for a demo or to start planning your inbound chat strategy!
Camille is co-founder at Yodelpop and is web and creative director, as well as designing strategies, processes and programs around the HubSpot growth stack system. Camille lives in Highland Park, Illinois, with her husband and two sons. She was president of her high school theater guild and still enjoys a little drama from time to time.