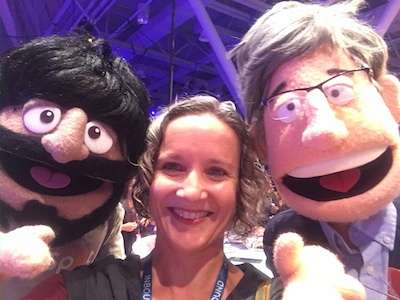 HubSpot's INBOUND conference, held every fall in Boston, is the one conference Yodelpop has attended every year since we were founded. Not only do we tap into an incredible amount of marketing information that we bring back to our work, we always make great connections with clients, marketers, and HubSpot team members. Watching the video recap reminds me of the impressive range of the stories HubSpot brought before 21,000 people this year: keynoters included Michelle Obama, Roxanne Gay, Billie Jean King, Issa Rae, Piera Gelardi, Brene Brown, and so many more people I admire.
INBOUND is also a blast. This year I got a selfie with both of HubSpot's cofounders, Dharmesh Shah and Brian Halligan — well, with their muppet versions anyway. (For the back-story, check out their always-entertaining keynote on video.)
It's hard to narrow my takeaways from 2017 down to a manageable list. But there were several messages that came through loud and clear. These are areas of marketing that I now believe small-to-medium businesses and nonprofits can't afford to ignore. Where possible, I've included a link so you can download a related presentation.
If you want to increase or maintain traffic, use topic clusters in your content.
We've been using a cornerstone content strategy with our clients' blogs for a while now. Numerous presentations at INBOUND 2017 validated that strategy, showing how search engine algorithms are rewarding it. They also made clear that marketers need to do more than just write longer blog entries to compete for search ranking. We need to:
Post definitive pieces of content (pillar content) on a particluar topic that your business or organization wants to be considered an authority on.
Place pillar content as close to the root domain as possible — it can be a blog post, but ideally it's a web page with links from your main navigation.
Create smaller pieces of content (cluster content) — such as blog posts of a more traditional length — linking into that piller content.
Organize all of this content so that cluster posts drive traffic to pillar content with the keywords you want those pillar pages to rank for.
If this sounds like mumbo-jumbo to you, work with a marketing agency that can help you understand and execute it. As I said, we've been doing this for a while now, but HubSpot is now giving us even better tools for it, with the Content > Strategy tool providing an effective way to group topic clusters right in the marketing software.
To learn more, download this presentation by Leslie Ye of HubSpot.
If you're not advertising and using video on Facebook, it's time to start.
Facebook and Google are not friends. It's getting harder and harder to get engagement for Facebook posts that direct users off of that platform and out to a website or other content platform. There are still tactics for maximizing engagement with unpaid content, such as creating your post as a graphic, and putting links in the post content itself rather than generating a link preview. But it's also an interesting time to work with paid advertising on Facebook, as HubSpot's Lead Ads make it easy to use all of an organization's or business's marketing data to target Facebook users with paid content.
With more and more advertising opportunities, Facebook users are finding it easy promote or boost posts, but those casual opportunities are less likely to get engagement than an actual Facebook ad campaign targeted to a strategically chosen audience. We can use lookalike audiences to mimic the set of people who have watched a video — of course, that video has to be uploaded to Facebook, not embedded from YouTube. We can also use remarketing to put content on Facebook in front of people who have visited our websites.
The main takeaway in terms of planning your marketing is that it's going to be harder and harder to avoid devoting budget to Facebook advertising if you want to maintain and increase traffic and engagement.
There was a ton of content on this at INBOUND 2017. One place to start is the presentation by Rex Gelb of HubSpot. Also one of our fellow HubSpot partner agencies, THINK Creative Group, gave a great talk just for HubSpot partners — they have a lot of great insights on their blog.
Artificial intelligence is relevant. Consider using a chatbot.
I'm guilty of avoiding past sessions on AI, because they seemed so far out of the realm of SMEs and nonprofits. This time, Purna Virji of Microsoft tricked me into going to session that was all about AI and chatbots by calling it "Conversions in a Landing Page-Less World – How New Technology is Changing the Way we Buy." Then, in her presentation, she informed us that of the 40 million people who use Xiaoice, an artificially intelligent chatbot from Microsoft, 10% (10 million people) have told "her" that they love her.
I cried real tears, because honestly it makes me sad that people would develop these feelings for a piece of technology. But the rest of her presentation, and others, convinced me that the time has come for small- to medium-sized businesses and nonprofits to put this technology to use. It's become accessible, and therefore your competitors are going to be using it.
Chatbots are probably the most rudimentary form of AI available to marketers, and they're getting easier to afford, set up, and use. If you have an FAQ page, you have the content for a chatbot. At INBOUND 2017, HubSpot announced that the Messages component of its SalesPro tool includes a chatbot, and it integrates seamlessly with the rest of the marketing software. Around the same time, HubSpot announced that it had acquired chatbot builder Motion AI.
There's lots more to say on this topic. You can start by clicking the link above to learn how Messages works. For more data on trends in marketing and sales AI, you can download the presentation by Purna Virji of Microsoft.
Make use of user-generated content — ethically.
"Effective user-generated content can generate 6.9 times higher engagement than brand-generated content on Facebook," according to presenter Tyler Anderson of Casual Fridays. When your customers, donors, or other contacts post images on their social media accounts and tag you, that creates a possible source of content that you can use for marketing — if you know the right steps to take to access it.
Instagram is actually the best platform for getting and using this type of content, because Instagram profiles are public. When someone tags you, their post will appear on your profile. Click to see the poster's account, and contact them. Facebook's advanced search feature can help you track down people tagging you as well; just search for your location, see who tagged you, and use the search feature to try to find them.
It's critical that you contact the poster and get their permission to use their image to promote your business. If they don't give you express permission to use it the way you plan to use it, you're breaking the law and creating ill will among people who could be your promoters. The poster may ask you for payment — if it's something that will lead to more leads and sales, consider the ROI before you say yes or no. If you're a brick and mortar business, you can use the free Tack tool to find user-generated content that people are posting about your business.
Those are just a few of the main messages that stuck with me from INBOUND 2017. Feel free to post yours in the comments — and contact me if you want help implementing any of these strategies.