Unconscious Bias In Marketing Teams: A Conversation with Jamila Joiner
Created by Jackie Lalley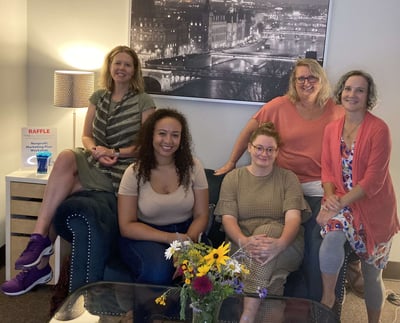 In summer 2022, Yodelpop hosted a workshop, Words Matter: Intent vs. Impact, facilitated by The BrandLab National Fearless Program Manager Jamila Joiner. The BrandLab's workshops are especially for the marketing and advertising community. It was a rare opportunity for our staff to share, learn, and work as a team to address biases with tools to help create an inclusive and safe culture. It was an amazing session! In this follow-up interview, Jamila shares some common challenges and solutions for marketing teams seeking to address unconscious bias.
Challenges of Unconscious Bias for Marketing Teams
Jackie:
I want to start by thanking you for facilitating the Words Matter workshop with our staff. You definitely helped us think through unconscious bias and understand it better. We've found some ways to apply those learnings immediately.
I was hoping you could start by talking about some of the biggest challenges you see facing marketing agencies and marketing teams within nonprofits.
Jamila:
Some of the most common things that we see happening are using outdated language that's not as inclusive as we're trying to be. And folks just not really knowing what they can do to change the unconscious biases. You might be in a place where you're really not even aware, until somebody says "that's not okay" or "we don't say that anymore, because of this."
Because sometimes if we're interacting with people outside of our own cultures, outside of our own identities, there are going to be things that we don't know. Until somebody tells us, or until we get a question and we do the research on our own.
Countering Unconscious Bias in Hiring
Jackie:
What are some of the steps you encourage agencies to take to address unconscious bias?
Jamila:
One of the biggest things I tell people is to get really specific. When it comes to hiring, for example, in your job postings, thinking about, what does your company need, specifically? Is that somebody who has a fresh perspective, or somebody who has experience with a certain industry? As opposed to looking for a "culture fit." Really leaning into the specific experience or skills that a person would have to have, or that somebody could potentially have, that we're looking for.
And even thinking outside of that box as well: Okay, this candidate is great, they're amazing, they can add a lot to our team, but they don't have some really key skills. Is that something we as an organization can train them on? Lean into creative problem solving so that we're not always doing what's easy, we're not always doing what we're used to doing.
Organizations sometimes get stuck in, "this is the way we've always done it." Breaking out of that can really help to not only increase the amount of diverse talent that you can reach, but also the diverse skill sets that you then have on your workforce.
Jackie:
For example, in the workshop we learned about recruiting team members who add something unique and valuable to the team, as opposed to looking for a "culture fit." And that led us to change the language we use in our recruitment page. When I say I'm looking for a culture fit, I'm basically asking you to be like me.
Jamila:
One of the agencies I worked with a couple of months ago was implementing internal policies to help them diversify. They had a committee dedicated to making sure the policies that they had internally were inclusive of all kinds of identities. Along with that they reached out to us to say, 'Have you seen organizations who are doing this really well?'
What are some of the tactics they've been using that help them to diversify? What policies are really working for their organization to only diversify but also to make their workplaces more inclusive and the work that they put out inclusive?
We've seen a lot of organizations be successful by looking for people who can bring different skill sets to their work, which also helps them get new talent into their workplaces, with different identities.
Unconscious Bias in Nonprofit Marketing Teams
Jackie:
How about nonprofits? What are some of the ways they need to address unconscious bias in their marketing?
Jamila:
One of the things that I know from working in the nonprofit environment is that everybody does everything, right? You might have five different positions in a for-profit company corresponding to one position at a nonprofit. So folks all have visibility to a lot of different parts of the nonprofit, and I think that nonprofits especially need to lean into that specificity when hiring. Keeping things general can lead us to make assumptions, which can reinforce stereotypes.
Getting specific about the work that you want to do—the skills that you need as an organization—really helps you to include a bunch of different people who might have those specifics. There are people who come from what we call a nontraditional education or experience background. The specificity can help a potential hire say, "Maybe I didn't do this exact thing, but I have experience in this other job that can apply to this really well," or, "I learned how to do a little of that; maybe they can teach me how to do more of it."
Jackie:
What can foundations do to address unconscious bias?
Jamila:
Asking a lot of questions is super important when you've worked in an organization that's done things the same way for a really long time. Foundations are dealing with a lot of money—maybe with gifts that have been given to them for years and years and years. They should ask themselves, What don't we know? or What is something that other organizations have been doing that we could implement ourselves? Asking those questions about what's different can really help them to start investigating new ways of doing things and really investigating the ways that they're marketing.
If they're marketing to the same kinds of donors as always, they should ask themselves, What are we saying that is attracting the same types of people? Is there something different that we can say that will attract different people? Investigating those things on a very basic level can help to start the journey of diversifying and finding different ways to market to different groups of people—even reaching out to audiences that may have never had any touchpoints with those foundations before.
Jackie:
That's what Community-Centric Fundraising is doing, creating a community where foundations connect with a diverse field of donors, and reducing competition between organizations. And asking those questions should be part of creating the organization's ideal personas.
Jamila:
In the past, I worked with Minnesota Public Radio. They had foundational giving as part of their individual giving program and as one of the larger sides of their fundraising teams. I think foundation giving connotes an appeal to more wealthy people, just those with higher incomes, and sometimes younger people, people of color who are starting their careers, have no visibility at all. Understanding yourself as an organization can help to increase awareness, not only to examine the marketing tactics that you currently use but also to see what tactics others are using to reach out to younger generations and to communities of color or disabled communities. What can we apply to our organization to make it more accessible?
Reaching Out for Resources
Jackie:
Learning new tactics comes partly from following people and organizations you don't normally seek out. It's hard when you're a busy nonprofit marketer, but it's the only way to grow.
Jamila:
Just reaching out to partners and the networks that you have, or people that you know, to say, What are you doing right now? Who are people that you know that have been doing this well? Trying to develop ourselves in a different way, I think, is an approach that we don't always consider when we're trying to diversify, trying to combat our unconscious biases. Unless we get outside of our bubbles and really make the effort to start learning from other organizations, we can get stuck in our own biases and just our own everyday operations.
Jackie:
What's your current go-to resource for addressing unconscious bias?
Jamila:
There's a newsletter that I'm subscribed to that's really great about giving you lots of different resources in daily chunks. It's called Anti-Racism Daily. One is a take-action chunk, and it gives you a lot of different things to do, whether that's finding food alternatives that are climate friendly or different places to shop that combat fast fashion or different ways of getting educated. There's an education chunk that gives you different articles, books, speaker videos.
Learning as a Source of Encouragement
Jackie:
What gives you hope or encouragement as you're out there doing this work?
Jamila:
In the course of teaching, I learn things myself. For example, in the past when giving workshops, when I would teach the definition of ethnicity, I would describe Judaism as an ethno-religious identity, and I got somebody in a workshop saying, Hey, I am Jewish, that's not necessarily right. She later sent me a long email detailing not only her own experience, but a lot of other resources that share why.
The hard thing about talking about our identities is that everybody identifies themselves differently, so learning that about Jewish identity changed the way that I taught those workshops—knowing that this identity that I was using as an example is not a monolith. Being open to having what you know challenged, even if you're an expert, is a really valuable skill to have that I'm leaning into and that I'm teaching other people to do, because it really helps us to learn from each other.
Jackie:
Yeah, there were members of our team who during the workshop shared that Jewish identity is very much part of who they are, and you told that story and provided a living example of how to keep being open and learning.
Calling Out and Calling In
Jackie:
You also talked about people teaching each other by both "calling out" and "calling in," and what the difference is. That was new to me, and I loved it. It came up in a TV show I was watching, and my daughter and I had a conversation about it.
Jamila:
Yeah, one of the really impactful things I learned about with calling out versus calling in is that with calling out, we always think of that being a really bad thing—like, I called you out on this, it was bad, all of this. But somebody explained it to me this way: 'When I call out something—say I call out some racist comment, and I say, What you said just now, it was racist—people will take that as saying "You are racist."' When in reality it was what the person said that was racist. The difference between those things can help us to tamp down some of that defensiveness that comes with being called out, because being called out is hard. I've been called out a number of times, and I have to say it's a humbling experience to say, 'Okay, I was wrong to do that.'
But then taking it upon yourself to learn why you got called out, the meanings behind what you said, and understanding that the call-out doesn't mean that you are a bad person but that maybe what you said or did wasn't great—you can always grow from that.
Jackie:
So it's not that calling out is bad and calling in is good. They're both acceptable ways of educating each other, and we shouldn't take it so damn personally.
Jamila:
Yes, exactly, exactly.
Jackie is co-founder and director of content at Yodelpop. She previously served as director of communications at a national nonprofit. Jackie enjoys playing upright bass in a bluegrass band and practicing Iyengar yoga (though usually not at the same time). She lives in Milwaukee with her family.