Yodelpop Carves Niche as Nonprofit Marketing Agency
Created by Yodelpop Team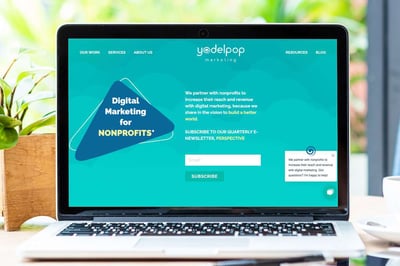 We've got exciting news to share! We've launched our new website to support our niche serving the nonprofit and professional association sectors.

Yodelpop has been serving primarily nonprofits since 2008, when our founders, Camille Winer and Jackie Lalley, met through a national early childhood education initiative. "We share in the vision to build a better world," says Camille. "That's why we've committed to partnering with nonprofits to increase their reach and their revenue."
"Nonprofits not only make the world a better place — they can make the internet a better place, with the right strategy and technology," says Jackie, who previously served as a nonprofit communications director.
The new website brings into focus Yodelpop's core services:
The site shares our approach as a nonprofit digital marketing firm and shows examples of our work and clients, including some "big‑hearted businesses" that we're happy to continue to serve. And a new Yodelpop team page spotlights members of our highly skilled nonprofit marketing team.
Our team has served regional, national, and global nonprofits with a broad range of missions, including:
Children, youth, and families
Professional associations
Environment and sustainability
Foundations
Health and medicine
Animal welfare


Yodelpop has built a diverse remote team with brick‑and‑mortar headquarters in Highland Park, IL, and Milwaukee, WI. We're a HubSpot Gold Partner agency that combines world‑class technology with thoughtfully established and fully executed strategy.