Executive Summary
Rejoyn Medical Systems is an e-commerce provider of life-improving solutions for people with erectile dysfunction. Via their online shopping site, Rejoyn offers a full line of medical vacuum pumps that restore performance and confidence to men affected by ED.
Rejoyn Medical Systems came to Yodelpop for help developing a marketing strategy that would allow them to make online sales to customers a significant revenue stream. Since engaging Yodelpop, Rejoyn has seen a 360% increase in annual traffic from organic search. The bottom line results are clear: the company has seen annual revenue from ecommerce increase by 46%.
Read below for more details on how we partnered with Rejoyn Medical Systems to win a significant market share in natural ED solutions.
Challenges
In 2015, Rejoyn came to Yodelpop for help following a change in public policy: federal guidelines regulating their industry changed so that Medicare stopped covering the majority of their products. With the resulting decrease in doctor referrals and sales to retailers, they knew they'd need a marketing strategy that would enable them to reach their customers directly.
Rejoyn needed to actively pursuing a new online sales and marketing approach in a radically changing sales environment. They had an e-commerce site, but it wasn't equipped to draw traffic and convert visitors to leads and leads to customers. In the year before Rejoyn engaged with Yodelpop, orders were down and revenue from the website had decreased by 19.5%.
How We Helped
Yodelpop worked with the Rejoyn team to (1) create a content-rich website that serves as a traffic magnet, drawing more visitors into the sales funnel, (2) nurture leads to become customers, crossing over to the e-commerce site (which we redesigned), and (3) further nurture those customers into repeat sales using workflows and other HubSpot tools. We planned and executed these strategies using HubSpot's all-in-one marketing software, COS website platform, CRM, and Sales Free products.
Site Redesign & Migration to HubSpot COS
Before and after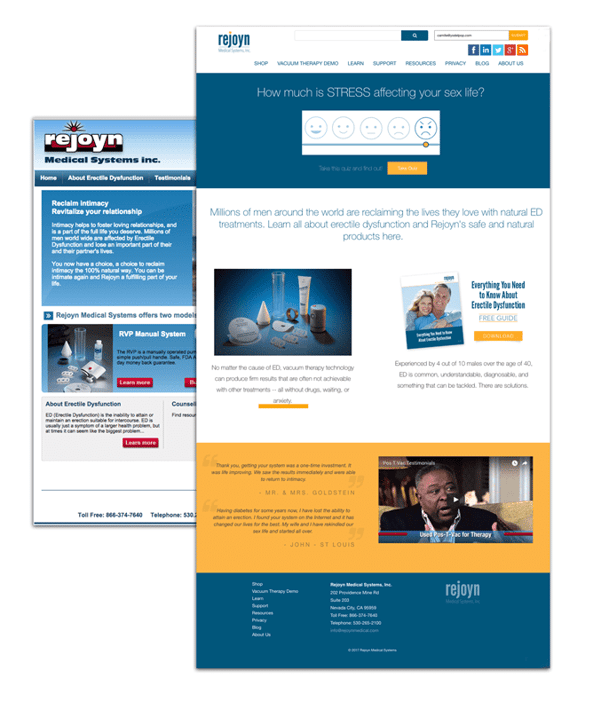 E-Commerce Site Redesign
Before and after
The first year, we focused on:
Developing buyer personas

to enable segmentation of contacts and customers, focusing Rejoyn's marketing

Designing the main website on HubSpot's Website tool to create an effective educational and sales portal, including refreshing their logo and brand
Redesigning the BigCommerce site and integrating it with HubSpot via the HubShop.ly BigCommerce integration to ensure optimal customer experience and flow of data to HubSpot.
Keyword-driven educational blogs to increase traffic from ideal buyers
4 new premium content offers to generate pre-sales leads and to engage and delight customers
Email automation segmented for different buyer and customer stages, including an abandoned cart email strategy
A/B testing of email, landing pages and calls-to-action for increased engagement and conversion
Social media to spread Rejoyn's thought leadership and brand
Blog and E-book Targeting
Consideration / Decision–Stage Buyers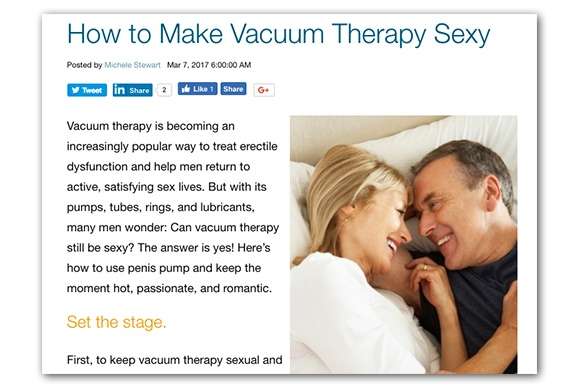 In year two, Rejoyn's strategy has expanded to include:
Developing and reaching a new awareness-stage persona that had previously been outside of the marketing funnel
Using data from HubSpot and BigCommerce to recommend successful inventory additions to reach previously untapped customers
New topics and premium content —including a Qzzr Quiz—to widen the top of the funnel, increasing traffic, leads and revenue
Use of advanced reporting tools in HubSpot to identify key opportunities for optimization.
Quiz Targeting Awareness-Stage Buyers
'How much is stress affecting your sex life?'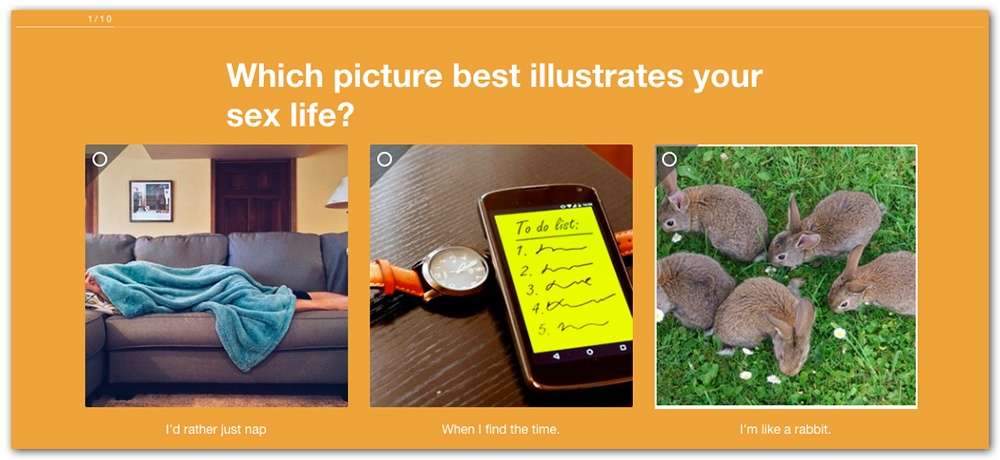 Results / ROI
Through inbound marketing with Yodelpop as their partner, Rejoyn has significantly increased results at every point in the buyer's journey, from visitors to leads to customers to repeat buyers.
Rejoyn has experienced the following annual increases*:
Organic traffic: up 360%
Email open rate: 26.9% compared to industry average of

16.8%
Email click rate: 10%

compared to industry average of 2.3%
Revenue from email marketing: up

1,781.9%

Visits to e-commerce site: up 398%
New customers: up 69.3%
Conversion rate: up

182.4%,

from 1.9% to 5.3%
Revenue from website: up 45.9%
*Pre-inbound year (3/1/14–2/28/15) versus most recent inbound reporting year (3/1/16–2/28/17).
Monthly Organic Traffic
To content site, first 2 years of inbound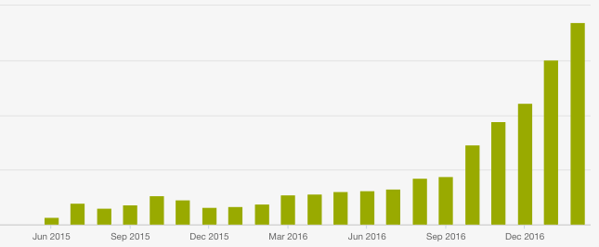 E-Commerce Site
2-year growth since engaging with Yodelpop

Future Plans
In the third year of partnership with Yodelpop, Rejoyn is contuing to grow through inbound marketing. Strategies include integrating customer data between the e-commerce store and HubSpot to further refine segmentation and workflow performance. We're using HubSpot's Events tool to record specific site interactions by visitors and trigger workflows based on customized event. Finally, we've initiated a growth-driven design strategy for ongoing, high-impact improvements to the website user experience and conversion.
Client Testimonial
"Organic traffic to our site increased over 500% in just 1 year! About 3 years ago I knew that I had to get a new marketing strategy in the works ASAP to help solidify my company's online presence and start attracting new quality leads. I was already using HubSpot but managing the account myself. I contact several HubSpot partners when I started looking and I am happy to say my search ended with Yodelpop.

From the beginning, the main point of attraction that connected me to Yodelpop was the interest they showed in getting to know my company and my customer base. Many of other companies that I received proposals from stayed at a surface level. Yodelpop took time from the start to ask in depth questions about Rejoyn's mission as a company, not just our marketing goals.

The timeliness and quality of work is always high. Yodelpop is always up to date about new features and tactics of inbound marketing. Yodelpop has always exceeded expectations.

–Michele Stewart, Owner,
Rejoyn Medical Systems
Would you like to get more conversions from your website?