Wireless Communications Firm Triples Leads, Grows Traffic 128%
Created by Yodelpop Team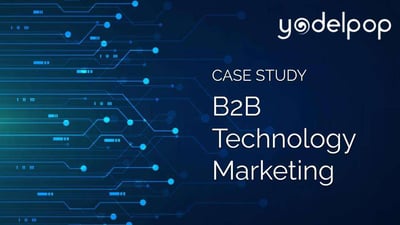 In the first year of inbound marketing with Yodelpop, this B2B wireless communication provider experienced results including:
Website Traffic: ⬆️ 128% monthly increase
Leads: ⬆️ 55% monthly increase
Situation
This wireless communication provider is a highly reputable integrator of voice and data solutions, serving sectors including public safety, education, manufacturing, hospitality, healthcare, and more.
The company came to Yodelpop for help solving several problems:
Lack of traffic and leads from organic search and social media

Reduction in internal marketing staff

Absence of content, traffic, and leads related to several of the business's core service areas

Gaps in implementation of inbound methodology, impacting traffic and conversion rates
In the first two years of partnering with Yodelpop, the business saw a monthly traffic increase of 128% (year one) and 68% (year two) from organic search and social media. In addition, leads increased by 55% (year one) and 90% (year two) from organic and social.
Our Approach
Yodelpop enacted a simple and effective content, design, and social media strategy in partnership with the client. The first year, we focused on:
Creating and posting keyword-driven educational blogs and web pages
Adding calls to action on all pages
Testing and redesigning landing pages for increased performance
Creating and updating buyer personas to focus marketing efforts
Rewriting and designing key web pages to promote all of the company's service areas
In subsequent years, we've augmented those efforts while still enacting an efficient inbound strategy, including:
Creating content-rich, authoritative pillar pages and blogs, building search authority on topics of key interest to customers
Developing a new website using HubSpot CMS to replace legacy software and enable easy search of all offerings by industry and product
Broadening content to cover popular B to B themes beyond strictly technical topics
Launching new offers to convert leads in each persona and stage of the buyer's journey
Increasing brand prominence in co-branded offers
Using social media strategically to drive traffic to the website as well as increasing following with shared content
Improving design of calls to action to increase traffic to lead conversion
Adding resources pages to promote all offers and drive prospects further along the buyer's journey
Impact
By implementing a content-based inbound marketing strategy using HubSpot Marketing Pro and CMS software, in the first two years, Yodelpop helped this wireless communications provider more than double its traffic and triple the number of leads generated through its website.