Supporting the Next Generation of Marketing Professionals: A Conversation with The BrandLab's Kweku TeAngelo Cargile
Created by Jackie Lalley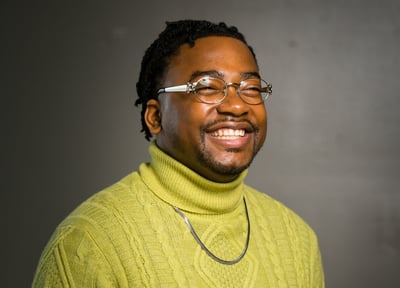 In this interview, Kweku TeAngelo Cargile Jr., Executive Director at The BrandLab Milwaukee, talks about his organization's work supporting the next generation of marketing professionals, and the challenges faced by members of marketing teams when it comes to diversity, equity, and inclusion.
The BrandLab's Mix of Marketing and Youth Development
Jackie Lalley:
What initially got you excited about working at The BrandLab, and what's your favorite part of the job?
Kweku TeAngelo Cargile Jr.:
What really got me to connect to The BrandLab is the opportunity for pipeline programming. I come from a pipeline programming background myself, in public health. When I was in high school, I got exposed to public health careers and opportunities that I had never heard about in that field. I've seen how that had an impact on me, how that guided me through not only my high school career, but through college, even into my first job, to now. All the experiences and understandings and learnings that I gained still benefit me in my current role.
When it comes to The BrandLab, particularly in Milwaukee, we really focus on what it means to support young people and piloting new ways to have a positive impact. What does youth development look like in the scope of The BrandLab's programming? I think those are some of the things that really excite me about this role and this opportunity. Also, it's the opportunity to engage in a new field. I don't come from marketing and advertising; I come from youth development. Being able to use that lens on this really impactful work, and exposing our young people to the vast careers within marketing and advertising has really been a unique experience.
Eye-Opening Impact
Jackie:
So what would you say is your favorite aspect of your work?
Kweku:
Moments where I get to see how the programming impacts a young person's trajectory. Like during our Summer Institute, which is basically our onboarding experience for high school students, we were able to take one of our recent graduates from high school to his college, which he hadn't had the opportunity to tour yet. We were able to expose him to the college he was planning to attend, and not only expose him to it, but expose him to the vast opportunities at his college that he knew nothing about. I'll never forget at the end of that field trip, he said to me, "Thank you for giving me the opportunity to see all the things that my college is going to provide for me. I'm actually really excited about college today and I wasn't excited yesterday." Exposing young people to the things they deserve to have access to, is a true privilege. It helps me to get up in the morning.
Jackie:
It's really cool that you have the opportunity to take everything from the beginning all the way to, really, accompanying young people into their future. It seems like such a great fit from youth development to what you're doing now. Thank you for the work that you do.
Kweku:
Thank you.
Jackie:
Would you talk about how The BrandLab came about and then how it came to have a home in Milwaukee?
Kweku:
Definitely. So we've been around for over 12 years now. We started out in Minneapolis, Minnesota, expanded to Kansas City and now the greater Milwaukee area. Our founders recognized there were gaps in marketing and advertising, particularly around diversity, and had a vision of spark programming, which is where we create opportunities for young people, particularly juniors and seniors in high school, to learn about careers in marketing and advertising. And that seed grew and we recognized that there was an additional need to support our college-based interns, between and after their internships. That program (for college and beyond) has also started to thrive.
So the organization continued to grow. Shout out to Quad and the Windhover Foundation. After working with us in Minneapolis, they recognized that there was a huge need and desire for the work of The BrandLab in Milwaukee. With them and another great organization, Greater Together, we were able to formally bring The BrandLab into Milwaukee in 2021. Thank you to our strong partners!
From last October to now, we've been able to create some unique opportunities for high school and college students — 30 interns this summer, across a variety of amazing hosts, at the agency side and on the corporate side. It's powerful to see young people not only learn about careers, but recognize what they actually want to do, even in just one summer.
And we have really high expectations of ourselves. Our goal is 100 interns by 2024. And we can't wait to have Yodelpop be one of those amazing hosts.
The Challenge of Diversity, Equity, and Inclusion in the Marketing Industry
Jackie:
We look forward to that! We certainly have gotten a huge amount out of just our participation so far. So shifting gears and starting to think about the case for The BrandLab and what you're learning from dealing with lots of people working in the marketing and advertising industry — and also in professional development.
What would you say are the biggest challenges you see for marketing agencies when it comes to diversity, equity, and inclusion? What do you hear them talking about when they talk about their challenges and pains?
And from the other side, what do young people, or not just young people, face working in environments that are not culturally competent? What are the pains of people working in those agencies and the pains of young people seeking marketing work?
Kweku:
Oh man, that's a great question. I'm going to start out by referencing some data from the 2021 census, particularly in the field of advertising, corporate relations, and related services:
Starting with pay for Black and African Americans in this field, pay is significantly lower than that of white males in all three of the cities The BrandLab works in.
It's lowest in Milwaukee, where Black and African Americans make up 5.7% of the workforce and earn on average $29,000, compared to $75,000 for white males.
In Minneapolis, the population is 2.4% Black and African Americans, and their average earnings are $51,000.
In Kansas City, the population is 3.8% Black, and their average salary is $61,000.
And when we look at our American Indian or Native American populations, or female workers, average salaries tell a similar story: significantly lower than white males, and lowest overall in Milwaukee, out of the three cities. The data shows large inequities, where there are gaps, and where we can grow. So that's the first answer.
I would also follow that up with saying in Milwaukee there has been a huge opportunity to support the great work of The BrandLab. We had an amazing first summer, a strong selection of hosts, but we also experienced hosts who came to the table who already recognized that they were not a safe space for BIPOC [Black, Indigenous, and People of Color] talent. And I think that's really interesting, when you think about something that you lack, and know your agency is not ready. And when I asked this particular agency why they felt like they weren't ready, the first thing they said was: we have zero diversity, we have no BIPOC talent at our agency; it may not be a safe space for them.
And that's what I'd like to lean into. I recognize that agencies want to step up in theory, be brave and say: hey, I am ready to do something that I'm not currently doing. And a big shout out to Yodelpop, recognizing that there are some areas you want to grow in. Agencies can step into Fearless programming and bring in some workshops — continue to educate their teams so that when they are ready, they will have not only a brave space, but a safe space for future BIPOC talent.
And I think that's been a really interesting experience so far, as agencies recognize they need to do this. And that's what's really unique about The BrandLab: we can support you to be there, and we can help you get there.
Jackie:
Yes, it's so interesting how you adeptly bring in all those different perspectives; really when the money isn't there, first and foremost, it's very hard to make a career. That's a hard piece of data that the industry needs to fix. All of the programming that you all are providing is paving the way for success — for everyone. When we heard about The BrandLab and went to an event, my team was just so encouraged, really, to know that there is an organization out there to help — to help us be helpful.
Kweku, what gives you hope for the future?
Kweku:
That's another great question. I would say again, that there were internship hosts that were really eager to step into the space, and be some of those spaces for our young people. I think that all you can really ask for at this moment are opportunities and access. And that's The BrandLab's mission, creating accessible opportunities for our BIPOC talent. And we're growing. That's what gives me hope. We have huge goals to reach, but we already have agencies like Yodelop who recognize that they want to be part of that growth. I think those things are really important. They give me hope. They give our young people hope because there are opportunities truly set aside for them to not only learn about these spaces, but to have equitable wages in those safe spaces for them to learn and grow in, and access to vast careers within marketing and advertising. That definitely gives me hope.
Early Career Development in the Marketing Industry
Jackie:
You've talked about opportunities you had to be with and walk with young people, and to help guide them. That really sounds like a major source of hope. Definitely. You had 30 interns this year. Where did they come from? What age range and educational level?
Kweku:
So, historically, we provide programming for high school juniors and seniors and then all grade levels for college. In Milwaukee, we dug a little deeper. We had a high school sophomore this summer and we also had an Opportunity Youth, which is a young person between the ages of 16 and 24, sometimes 25, who is out of school and out of work. This older youth was really thinking about going back to school after the internship. So not only did this internship create an opportunity for them to get an equitable wage, but it also opened up their mind to say, okay, going back and getting some additional education could and would be really valuable for my future growth.
At Quad, where we've had a few interns, we were doing our site visit two weeks ago, and they were telling us about a photo shoot the day before and how their experience has been unique almost every day. They told us that the day before one of them got to take pictures of dogs. And I thought that was the funniest thing in the world because they were like, we had no idea that we were ever going to get to shoot animals! I think this shows the diversity of opportunities in marketing and advertising — how each day can be exciting and very different than the last.
Another Quad intern got to make a logo as one of their projects for Quad's health and wellness projects. It was for a 5K race, and the intern got to not only design but see their logo imprinted on water bottles. They got to see their logo on T-shirts. They were really proud of the opportunity to apply the things they learned. A very practical application of their skills. I think that was a really unique opportunity for that intern.
And I believe that intern's going to wear that T-shirt at our end-of-summer celebration. It's not just about theory or creating something, but also about having something to show for your work. It's such a unique thing that you get in marketing and advertising, even at the internship level.
Engaged by the Impact of Their Work
Jackie:
Are there any other stories you'd like to share?
Kweku:
One of our interns, from our high school cohort, got to create a project for a mental health organization. And I'll never forget what they shared: that going through this process showed them the importance of mental health and how it's vital to share with other people and remove the stigma and the negative connotations around getting support for mental health. What a really amazing thing to be able to share, because it not only impacted them, but it created opportunities to support others in the future.
Jackie:
Isn't the range of your stories telling, because that's just what we need as people. Everything from being able to have some artistic expression in our work — when you're working on logo development or doing a dog shoot — that's creative and artistic, and we need that. We have basic needs, but entrepreneurial ones too: being part of selling something that can be really fun. We need that. It's like mental health, too, and being able to be yourself, to share yourself, and to have that validated in the workplace. Wow. Marketing and advertising is pretty amazing. You can do all those things in this field. It's really incredible how your organization is opening doors to more people and to communities that have been shut out of the professional world.
Thank you, again, for sharing your thoughts and insights and time.
Kweku:
It's been a pleasure. I appreciate you.
Jackie is co-founder and director of content at Yodelpop. She previously served as director of communications at a national nonprofit. Jackie enjoys playing upright bass in a bluegrass band and practicing Iyengar yoga (though usually not at the same time). She lives in Milwaukee with her family.