Creating Attention-Grabbing Facebook Ads and Posts for Your Nonprofit
Created by Yodelpop Team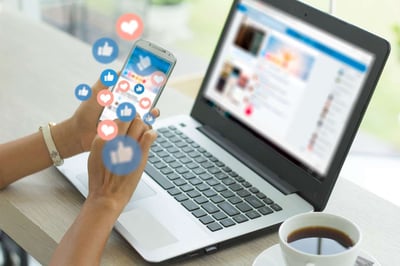 Used skillfully, Facebook is a powerful tool for nonprofits.
Nonprofits have used the Facebook social media platform to raise $3 billion globally from 45 million people. There are more than 90,000 nonprofits on Facebook, and more than one million organizations that use the social media platform to raise funds.
Beyond fundraising, Facebook is a platform where nonprofits can connect with large numbers of people to spread awareness of their missions. There were 2.8 billion active users on Facebook in the fourth quarter of 2020.
How can nonprofits make use of Facebook's potential as both an advocacy and a fundraising tool? By taking the following steps:
Encourage Earned Content
Earned content (traditionally called earned media) is publicity—free publicity. It's any material written about you that your nonprofit didn't create itself. While you may not be in charge of creating this content, you can position your organization to support the posting of earned content.
Earned content is the most impactful form of content, according to 81% of CMOs and marketing decision makers. It is especially effective in establishing credibility for your organization and its messages.
There are several things you can do to encourage the creation and sharing of earned content for your organization. Whether you're fundraising or looking to raise awareness, you can:
Include calls to action to encourage the sharing of your mission using phrases like, "Join me in serving people in need," with social media badges or sharing buttons on all your digital platforms, in emails, and more. Boost memorability with engaging hashtags.
Connect with the media. You can offer to testify on a relevant piece of local, state, or national legislation that can impact your mission, which will gain the attention of the media—which will then be shared on social media. You can also offer media channels a quote for upcoming stories. In addition to promoting earned media, educating the media on your issues and positions furthers your mission in and of itself.
Empower your volunteers to share your messages. Educate them on your brand standards and expectations—then let them share your message with the world.
Create a hashtag and picture‑sharing campaign (like a selfie contest) and encourage your followers to participate and share. Encourage them to tag your organization and make the post public so you can share it.
...And Don't Shy Away from Paid Content
While earned content can deliver impactful results, most nonprofits need a paid content marketing strategy — especially when you're looking to build your audience. As Huffington Post writer Tulani Elisa explains, "Unless you have a really large following, thousands of advocates sharing your content, and maybe a couple of other organizations pitching in to spread the word, you probably won't make a dent in the social space."
As a nonprofit, you may not have access to the scale of marketing budgets that large corporations do. If that's the case, Facebook is a useful place to invest in paid content when you want real results and a reasonable return on your investment.
Facebook isn't over‑cluttered with ads. When done well, you can build a successful campaign on a relatively small budget if you're looking to build awareness of an upcoming event, bring in donations, or raise awareness about your cause.
A few tips on using paid content:
Craft compelling, attention‑grabbing headlines.
Know your target audience, and keep your reach hyper‑focused on a specific group.
Use Facebook

Custom Audiences and Lookalikes features

.
For instant cash, add the "Donate Now" button—but be aware that you won't get any information about your donors.
Schedule your ads to be shared at peak traffic times.
Make an emotional appeal to connect with your audience.
Try

carousel ads

and other interactive features.
Measure and track ad performance to learn from what's working. Run a few versions of an ad with different images, for example, and after a week or two, turn off all but the highest‑performing version.
Harness the Power of Video
Every day, Facebook gets 8 billion views from around 500 million users. When you're looking for a post that could generate momentum and make an impact, video may be the way to go.
Take, for example, this campaign from a nonprofit dedicated to bringing water to mothers in countries without access to clean water. The nonprofit shared a haunting video to help moms in first‑world countries relate to the experiences these moms in underserved areas of the world endure each day as they struggle to provide clean water for their families.
The result of the campaign? They spread their message to a wide audience, gaining more than 15,000 video views on Facebook alone.
The Impact of Facebook Videos
Video content is more engaging than any other type of Facebook content. The average engagement rate for a Facebook video post is 6.13%, which is higher than all other kinds of content. People look at videos five times longer than static content. If you want to connect your audience with the message and mission of your nonprofit, videos are definitely the way to do it.
Additionally, it might be time to take your message live. In fact, Live Videos on Facebook receive six times more engagement than regular videos, and engagement with these videos increased by 50% in 2020. Because this is true, live videos rank high in Facebook's algorithm and can be used to capture the attention of those looking—they are more likely to be displayed high on a newsfeed.
Every nonprofit has a story to tell—about the mission, the founders, the staff, volunteers, and beneficiaries. These human stories can help share your passion with the world, and videos can bring them to life in ways other content can't.
Pick a Tactic and Get Started
There are countless ways to connect with your audience via Facebook. You don't have to implement every single one at once! Here are a few small things you can do to make a big difference:
Schedule your Facebook ads and posts all at once for the entire month using integrated marketing software like HubSpot or social media software.
Create a monthly advertising budget (even if it's tiny!).
Post content that's engaging, like a poll or a piece of surprising information.
Look at what comparable nonprofits are posting to gain knowledge of what's happening in your field. Especially look for the posts that are getting the most engagement.
Create personas, and gear your content around them.
Set achievable, trackable goals, like increasing the number of likes and followers, the amount of traffic on a particular page, or conversions from a Facebook ad that leads to a landing page—then evaluate your progress each month.