7 Keys to Designing Nonprofit Infographics That Work
Created by Yodelpop Team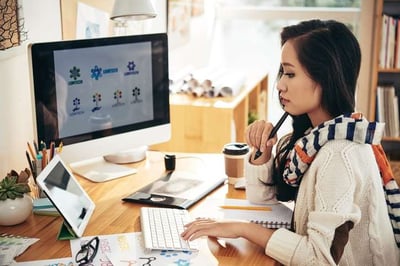 Of all the creative marketing strategies that have emerged recently, infographics are among the most useful to nonprofits. Everywhere you look there are examples of data-rich graphics that organizations have created to inspire, educate, and engage their prospective supporters.
Perhaps even more than videos, social media, and many of the hundreds of other marketing innovations of the past few decades, infographics
help nonprofits tell their stories with data.
help people understand the complex issues that nonprofits are addressing.
encourage donors and participants to share nonprofits' knowledge.
Below are 7 essential tips for success when designing nonprofit infographics.
1. Start with a paragraph.
Creating an infographic is only partly a design task. It's mostly a storytelling task. The most important part of creating a great infographic is understanding what story you want to tell and the data that supports it. Before even talking to a designer, sit down with your data and get to know it. Then write the story you want your infographic to tell—in one paragraph. Give that to your designer along with the data, images, and any other assets they'll need to create an amazing infographic for you.
2. Know your purpose.
Is your infographic going to help you explain what you do? Or do you want it to explain the problem and also the solution you propose? There's no wrong answer, but decide what you want to achieve first, and know that when writing your paragraph.
3. Find good data.
A decade ago, whenever new data was released by a university or think tank, nonprofits depended on the media to educate the public about it. Now, nonprofits can use the internet and social media to educate their constituencies directly. To take advantage of that tremendous opportunity, you need to actively research new data that relates to your work, which you can use to raise awareness of your issues.
You probably know the universities and other institutions that do the most research in your field. You may have representatives on your board or staff from these institutions. Make sure they keep you informed. Subscribe to email lists, social media, and RSS feeds so that you're alerted when they release reports related to your work. If you're looking for fresh data to connect your issue to, you can always start by perusing news releases related to policy and public interest or other fields.
4. Make it new.
Look at your paragraph again. Does it promise and deliver something new to your target supporters? If the answer is not yes, go back and revise. You don't have to have a new program or even new data; if you're giving them a new way of looking at an old issue, that can be enough, especially if you're working to update your messages to reach millennials and you're giving them a new way of getting engaged by volunteering or donating.
5. Don't confuse length with quality.
Although infographics can be long and involved, you don't have to organize a scroll-a-thon to get your point across. The simple infographic below shows how organizations use the inbound marketing methodology to achieve their goals for fundraising, volunteerism, and participation. As a nonprofit marketing agency and an inbound marketing firm, we use this all the time to explain what we do. The details of inbound marketing are complicated, but this graphic gets the point across in just a few words.

6. Stay true to your brand.
Infographics should be graphically rich, and you may be tempted to have your designer create something totally original-looking. But make sure your infographic fits with your brand style. If your infographic is successful, it will be shared widely, so make the connection to your organization clear. At a minimum, place your organization's name and/or logo somewhere on the infographic so that viewers can get more of your valuable information and join your organization. If you don't have a brand style guide, this is a good time to have your design firm develop one for you.
7. Use your infographic to draw traffic to your website.
Promote your infographic via email and social media—with a link to a page on your website that tells the complete story and includes calls to action that visitors can use to sign up for your emails, download your publications, volunteer, donate, or get involved in other ways.
Check out the Yodelpop's portfolio for some of the infographics we've helped our clients create.