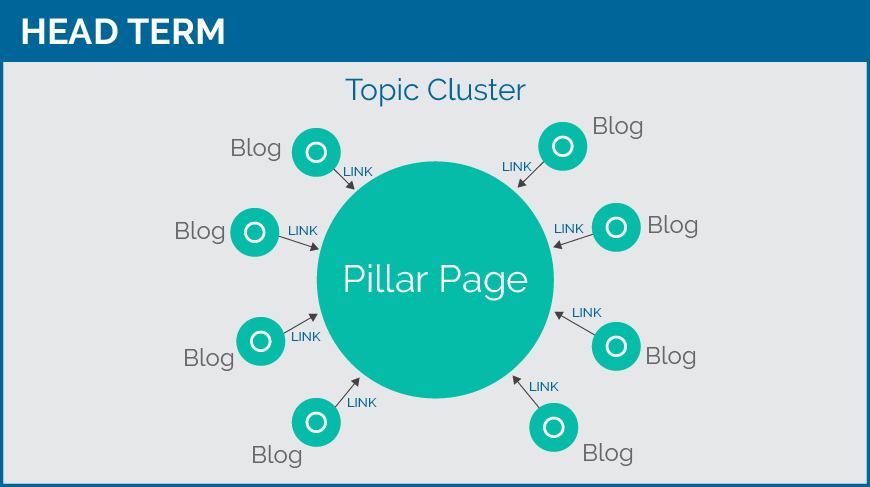 Once you have a core topic that you're planning to build a pillar page around, it's time to decide on some subtopics within that same topic cluster. These are going to become the keywords for your blogs (you can also build other content around them, like web pages and videos). And these blogs (and other pieces of content) are all going to contain links to the pillar page. Because the goal here is to boost traffic to the pillar page — and to the topic cluster as a whole.
If you've used blogging as a marketing strategy for your business in the past, you already know a lot about writing blogs around a keyword. In case you're new to the task, here are the basics:
Create a list of questions that your ideal customers have, which are specific aspects or facets of your core topic, based on their challenges and problems — you should have many sources of these, including your customers and sales and service staff
Each one of these questions is a potential subtopic — it will be the subject of a blog, with its own unique keyword
Use your favorite keyword tool (there are several listed above) to find the keywords users are entering to find information on these issues, along with related searches, and the average monthly search
Enter potential subtopic keywords into Google and use the results to determine what demand there is for this content, and to generate more ideas. Look at:

Autocomplete: What is Google entering for you?
The first page of the search engine result listings: Can you create better content than what you see there?
Synonyms, similar phrases, and lots of different ways of asking the same question
Subtopic keywords can be relatively low in traffic, with monthly search volume in the hundreds, or even less. The key is to answer the right questions to address your personas' challenges and goals and to achieve your content mission.
In the case of our topic cluster example, under our core term of dementia care, we've decided to start with these subtopics as keywords for our blogs:
dementia caregiver stress
how to talk to a parent with dementia
activities for people with dementia
stages of dementia
dementia caregiver tips
types of dementia
dementia caregivers toolbox
caring for parent with dementia at home
Each blog needs to be as perfectly optimized for search engines as your pillar page, including your keyword in: the page title (in an H1 tag), subheads (in H2 and H3 tags), meta descriptions, image tags, image file names, and — of course — the content. However, gone are the days of keyword stuffing — search engines will penalize you for it, and so will your visitors. Use the keyword naturally — which argues for choosing a keyword that makes that possible.
Remember you are writing for the human, not the search engine.
Each subtopic is a step toward increasing visibility and traffic for the pillar page it is connected to; make it relevant so that your pillar page link will be completely natural in the blog.
In many cases, especially if you're creating all of your content from scratch, all of the subtopic blogs combined will essentially comprise the content of your pillar page. But each piece has to work on its own, so keep in mind that each blog will need to be customized.
Once you know what the subtopics (blog topics) in your topic cluster are going to be, you need to generate content. For a busy marketing team, that can seem like a barrier, but it may not be as hard as you think. Here's a quick list of possible sources of blog content. They may require some work to adapt into blogs, but in some cases, you should be able to virtually cut and paste:
Sales and promotional materials
Product and service documentation
Webinars or presentations by your staff or partners — transcribe and edit them, embedding the video for even better traffic
Articles from your enewsletter
Case studies sharing success stories and metrics
Emails written to individuals in response to their questions
Personal stories of your customers — place a form on your website soliciting these
Social media — further develop posts your team has written, or replies to comments that they've crafted
Interviews
Old blog posts — find disparate blog posts and combine them to increase their combined traffic — just make sure to create redirects or you could lose, rather than gain, traffic. (If you're doing this, it's best to enlist the help of a professional versed in repurposing content. At Yodelpop, we've developed a whole process for consolidating content and repurposing it for higher traffic and conversion — feel free to contact us to learn more about it.)
While your business has the expertise in your products and services and the problems they solve, you may not have professional writers. Hiring a content marketing firm that specializes in topic clusters and all that they involve is one solution; they can draw from your materials, interviews with your staff and experts, and additional research to create the content your customers are looking for. If you don't have the resources to hire professionals, create a simple assignment template that clearly lists the parameters of the blog assignment (word count, topic, use of the keyword, required link to pillar page, required subheads and bullets, etc.) and fill it out every time you ask someone to write for your blog.
How many subtopics will you need? In the end, the number of subtopics you generate (and blogs you create) to be in your topic cluster will depend on how much your personas want to know — and, of course, how much content and expertise your business has on the subject. While quantity is still important, it has taken second place to quality in the new SEO.
The difference between the old way of keyword‑based blogging and blogging that's based on topic clusters is this: All of your blogs will now be working together to drive traffic to a pillar page. Traffic to the entire topic cluster is what matters most, not traffic to any single blog.
Rather than looking at traffic to any one blog as your main metric of success with content marketing, you can now consider how the whole topic cluster is doing at (1) attracting traffic and (2) converting visitors to leads (with calls‑to‑action, on‑page forms, and pop‑up forms).