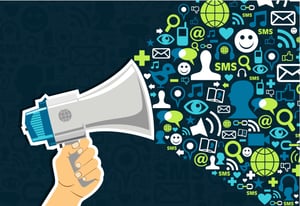 Regardless of what industry your business or organization is in, I can guarantee one thing about your online marketing strategy: You need a business blog. Blogs expand your reach, showcase your expertise and ultimately help grow your business.
While blogging began as a personal platform for individuals, businesses and organizations now use professional business blogs to engage with their customers and supporters.
If writing, editing or supervising bloggers doesn't come naturally to you, blogging can seem daunting — so daunting that you may have lost sight of why it's so important to have a business blog, and how it benefits you.
As a refresher, here are 5 reasons it's time to start a business blog.
1. Frequent blogging drives traffic to your site
The more blog posts you publish every month, the more organic traffic that those posts will bring to your website. Posting every once in a while isn't enough – you need to be consistent.
Sprinkling your blogs with the keywords that your buyer personas are searching for makes your site more visible on search engines and your content more enticing to the people you're trying to attract.
2. Blogging increases exposure
Organizations and businesses often come to us saying they want to "get their brand out there" and increase their exposure. Building a strong brand is about gaining people's trust, and increasing exposure means giving people a reason to give you a try.
Writing with authority about issues, products or services that matter to your buyer personas establish you, your business or your organization as thought leaders in your industry or area of expertise.
3. Blogs are a creative way to educate your audience
You and your staff may take for granted your knowledge about an issue, product or service without realizing how interesting it is for others or its potential to help people address challenges they may be facing.
Blogs allow you to share what you know in digestible chunks and educate people along the way.
4. Blogging gives you street cred
Publishing content that is relevant to current trends in your industry or field will establish you as someone on the cutting edge.
In a world that seems to be constantly evolving and updating itself, your blog can be a place that demystifies elements of your industry or field and helps people understand how the changes affect them.
5. Blogging generates leads
Your blog is an excellent way to attract people to your website, and your posts should leave them wanting more.
At the end of your blog posts, make sure you have a relevant call-to-action (CTA) that offers people even more valuable information in exchange for their contact information. That CTA helps you transform site visitors into contacts and contacts into leads.
If you're still feeling overwhelmed about your business blog, remember that you don't have to go it alone. Your staff and volunteers can be sources of inspiration and content, and empowering them to share what they know gets them further engaged in your overall marketing strategy. And bringing on a knowledgeable marketing partner can give you access to their staff of professional writers.