8 Ways to Repurpose Content for Your Nonprofit Marketing Strategy
Created by Cori Albrecht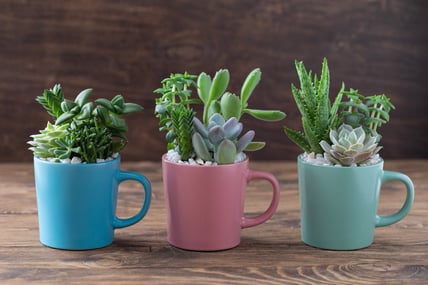 Embarking on a content strategy can be intimidating, but it doesn't have to be. Successful content marketing doesn't require creating brand new content every time.
By repackaging existing material that you already have, you can create valuable content assets and share them across multiple channels. This approach will leverage your organization's existing content and fill the content pipeline while extending reach and engagement.
There are many ways you can take existing assets and repurpose them into marketing content. A great place to start is to take inventory of every single piece of literature that you can find in your organization, whether it's buried on a server, an old print piece, or already published online.
Gather together key stakeholders that make up the marketing and development team and brainstorm ways to repurpose content.
Here are 8 ways to get you started repurposing content for your nonprofit marketing strategy:
Turn blog posts into podcasts.

Turn data and statistics into infographics.

Use blog content for webinar content.

Convert a popular resource into an ebook.

Create a slide deck for a webinar or SlideShare.

Use testimonials for content.

Update old blog posts with new information.

Offer guest contributions to SME members/supporters.
1. Turn blog posts into podcasts.
Often you'll find a blog post with content that you can expand on. You can certainly write a part two for that blog, but another idea would be to turn it into a podcast episode. Podcasts are a great platform for exploring and bringing life to complex content in a conversational manner. A pillar page you've published could be a great source for a series of podcast episodes.
Creating podcasts from existing content enables you to expand on the information and provide any new or updated facts you might like to add. The podcast can then be promoted at the top of the existing blog or within the pillar page content and shared via social media.
2. Turn statistics and collected data into infographics.
Do you survey industry partners, vendors, or members of your organization? What types of data do you collect, and how do you interpret them? If you gather input, such as compensation metrics, you can use the data to make an infographic.
You can make that infographic a premium content offer to boost conversion as a special download offer that you can promote to email subscribers and social media. You can also turn the infographic into smaller, bite-sized social posts.
3. Use pillar or blog content for videos.
Pillar and blog posts share a lot of valuable information, and if producing a podcast is not in your wheelhouse, an alternative for repurposing that information is by making videos.
These videos could be a single person sharing their thoughts, or you could present them as interviews with SMEs (subject matter experts). The videos could then be embedded in the appropriate blogs and/or pillar pages, shared on your YouTube channel, and promoted via social media.
4. Create ebooks.
Publishing an ebook from content you already have is a great way to maximize conversion opportunities. Ebooks boost your organization's credibility and work well as content offers.
Do you provide your members/supporters with quick start guides, templates, or manuals? Gather these materials and create downloadable, gated premium content to increase the number of conversions on your website with content offers.
5. Make a slide deck for a webinar SlideShare.
Remember that infographic you created from your latest survey? (see # 2 above) The data and graphics from that survey can be used to create a presentation deck that can be used as a webinar or be uploaded to SlideShare.
Individual slides from a deck can be shared as social media graphics, and a recorded webinar can be edited down to shorter video segments that can be embedded on your website and promoted via email and social media.
6. Harness the power of testimonials for web and social media content.
Do your supporters provide glowing testimonials and reviews for you? You can share these as content on your pillar and landing pages or as part of your social media strategy.
Simple, short-form recommendations from existing members/supporters are incredibly persuasive. This type of social proof lets prospects know that your organization is trusted by audience members.
Testimonials and reviews can also lead to enhanced relationships with your current members/supporters. Showcasing reviews or testimonials provides a platform, letting them know that their opinion is important, they are being heard, and they matter.
7. Refresh existing blog posts.
Monitoring and periodically updating or combining old blog posts is an important part of any content strategy. You should routinely review your content to identify posts that can benefit and be more valuable with updated information.
Repurposing, updating, or combining blog posts can also be a great time-saver. It saves you from having to write a new post from scratch. You just need to ensure the refreshed content is relevant, up-to-date, and valuable to your audience.
8. Offer byline opportunities to SMEs.
Repurposing content can also build relationships. Have you reached out to SME members or leaders in your industry for an interview or guest post about a particular topic?
An interview can cover content you've covered in a blog post and explain why it's valuable information. Or a guest post could use the information you've put in the initial blog with the SME adding their unique perspective.
This tactic for repurposing content builds important relationships with members or organizations in your industry, and the additional exposure brings their audience to your site.
Your members, leads, and audience members want and need valuable content from your organization. And that content needs to reach audience members in a way that feels natural and organic versus being intrusive and disruptive. Content marketing helps you do this by attracting, engaging with, and delighting your target audiences.
By honing in on effective content marketing, you can increase conversions; improve brand awareness; boost membership, retention, and non-dues revenue; establish yourself as an industry leader; and more.
Cori is a senior account manager at Yodelpop. She has more than 20 years of marketing and communications experience. Prior to joining the Yodelpop team, Cori worked with hospitals, health systems, and medical associations on media analysis, branding, and strategic planning. She has created and executed multi-faceted campaigns and been on the ground floor of launching and growing new brands. Cori has an undergraduate public relations degree from Roosevelt University in Chicago, and multiple HubSpot and Google certifications.