Disco, Poetry, and Pushups: Creative Online Fundraising Ideas
Created by Cat Capellaro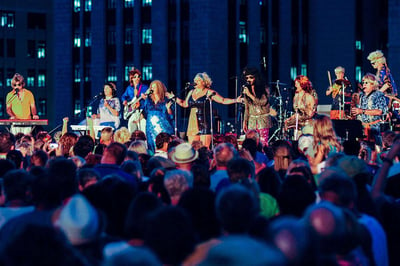 For many nonprofits, live fundraising events traditionally have been the biggest moneymakers—and community builders—of the year. Having to stop these events due to the COVID-19 pandemic was a loss we all felt. But organizations are adapting their fundraising strategies to the current reality, and the past couple of years have seen the rise of amazing, creative alternatives to live fundraising. Many organizations are exceeding their past fundraising goals, reducing demands on staff, and furthering their missions in the process.
In this blog, I'll share some examples of how nonprofits have launched creative, collaborative fundraisers online.
Making Meaningful Connections Online
In addition to being a writer for Yodelpop, I'm also a singer and trumpet player in VO5, a popular disco‑funk band in Madison, Wisconsin. We've become the go‑to band for neighborhood festivals and gala fundraisers for nonprofits. People love to dress up and dance for a good cause.
I'm not gonna lie: Getting people out on the dance floor is always going to be my ultimate goal. And we love sharing our music with people who are happy to give what they can to organizations that need their support. We've helped raise funds for the Madison Children's Museum, Common Wealth Development, Koats for Kids, American Red Cross, the Madison Area Music Association, RISE Wisconsin, Inc., and so many more. In 2022, we've already booked events for the Boys & Girls Clubs of Dane County and Breast Cancer Recovery.
My band members were already creative people, but in the past two years of pandemic, as we've had to scale back live events, we've thought creatively about how to share our work. It's affected everything from our social media presence to the many benefit shows we're used to playing. We learned to produce music that people could share safely when we needed to stay physically apart. We were hired to play several online shows, and last spring, we co‑produced a big livestream event that helped support our beloved Barrymore Theatre, which is owned by a nonprofit organization.
Our band also contributed a video message and performance video to Arts for All Wisconsin, a mission‑driven nonprofit that offers music and art opportunities for people with disabilities. After the pandemic socked it to their fundraising bottom line, the organization adapted a retro fundraising technique to address a modern problem: the telethon.
In this article in Isthmus, I spoke with Mike Lawler, the group's director of development and external relations. He shared his enthusiasm for the event, noting that it solved several problems at once. "The biggest challenge for us is really just finding a reasonable way to create inclusive, accessible virtual content," he told me. "There are lots of considerations when it comes to working with people who have visual impairments, or who are deaf and hard of hearing, who need adaptive technologies just to interface with online programming. At the same time, we are dealing with all the things that for‑profits and nonprofits are dealing with, which is where does the revenue come from, whether it's earned or contributed? It's been a whole new crazy landscape."
The telethon offered a whole afternoon and evening of online entertainment, with theater, music, comedy, and film. People with disabilities and those without were all able to share their art for a good cause. The organization's spokespeople introduced segments and asked for donations. All the content was captioned and included ASL interpreters.
The event also created a buzz in the community and a feeling of generosity and inclusion that furthered the organization's mission.
Putting together a telethon was a lot of work—and it's not the solution to every nonprofit's fundraising woes—but it worked well enough that they did it again this year. And it's a great example of harnessing the creative power of community to enliven fundraising.
"But what about poetry?" I'm glad you asked.
Harnessing the Power of Community
Woodland Pattern is a nonprofit book center and arts organization in Milwaukee's Riverwest neighborhood. It's a joyous hub for creativity and connection. In addition to hosting poetry readings, concerts, film screenings, and exhibitions, Woodland Pattern provides educational programs for people of all ages.
Each year Woodland Pattern harnesses the power of its artistic community to put on its biggest fundraiser, the Annual Poetry Marathon & Benefit. Each participant gets a time slot to read in the 24-hour event and raises money to support the organization's work through pledges from friends and family.
The COVID-19 pandemic challenged the organization to find a new format for what was normally a live event hosted in their beautiful gallery. Creativity prevailed, and the team put on a successful poetry marathon, live, on YouTube. The 2021 Poetry Marathon included more than 268 participants and more than 2,000 audience members.
I first became aware of the Poetry Marathon and Woodland Pattern through Yodelpop co‑founder Jackie Lalley. She's a Woodland Pattern past board member who has been one of the top fundraisers for the event. What's her secret? She writes a poem every year especially for the Marathon—and she solicits pledges by offering a chance for people to have a word included in her poem.
"It gives people the feeling that they're helping to create something," Jackie tells me. "They get to see themselves in the work because they get to see their word. Some people really get into challenging me. They like to throw a curve ball and see what I do with it. Other people see it as a way to express positive energy and joy in the world. Some people are struggling and want to shed light on struggles that people share—and it's all in a word."
Jackie's a busy person. So why does she take the time to contort her mind around all these words to write her annual contribution to the Marathon?
"Woodland Pattern gave me a home, artistically and personally, when I moved to a new city and community," she says. "I always do this fundraiser because I remember what it meant to me and I saw the effect it had on others. I became a true believer and a cheerleader for the organization." She points to it as an example of how nonprofits can keep strong connections with supporters even if they're not there participating in-person day-to-day. Knowing what makes your supporters tick (by creating supporter personas) is a key part of a successful nonprofit marketing plan.
By taking the Marathon online, Woodland Pattern has continued to give participants a way to stay connected to poetry and to their wider community, watching the scheduled livestream online. It still magnifies the organization's mission—putting more poetry out into the world and encouraging people to share and perform their work—while contributing significantly to the organization's budget.
And by writing and reading poetry that raises money for Woodland Pattern, Jackie and other participants are doing what they love for an organization they love.
Encouraging People to Do What They Love
One of Yodelpop's clients, the Foundation for Prader‑Willi Research (FPWR), has been perfecting the art of flexible online fundraising. The organization encourages its supporters to raise funds for critical research on this rare genetic disease by coaching and providing support and tools for people to plan fundraisers. They offer their community suggestions based on what has worked for their supporters in the past, such as:
Host a walk/run or a chili cook‑off
Organize a kickball tournament
Sing 80s rock ballads

and they support them by providing an online team fundraising platform integrated with Raiser's Edge. They also provide a peer-to-peer fundraising coach who can help people in the PWS community put on successful events. With personal experience as the parent of a child with PWS and as the organizer of a long list of FPWR fundraisers, the coach helps community members to see fundraising as something that's within their reach and to get the most out of their efforts.
One online fundraising option the organization has created is the 15 for 15 Challenge. People register individually or as a team and pursue a fitness goal that they've committed to. Here are some suggestions that FPWR provides—you can see where the event gets its name:
Run, bike, swim, or walk 15 miles over the course of 15 days
Do yoga with the kids for 15 minutes every day for 15 days
Complete 15 reps of an exercise (such as push-ups) every day for 15 days
Adding to the success of this fundraiser, FPWR has gotten matching donations from major donors just for its 15 for 15 Challenges. And prizes are given to participants as well, because as most of us know, when you're working on a fitness goal, every bit of motivation helps.
FPWR's staff knows from experience that parents, especially those with young children with special needs, want to improve their own health and well-being, but it's very hard to find the time and motivation to work on it. The 15 for 15 Challenge gives them a way to both achieve their goals and work together to support PWS research that will benefit families like theirs. It's a great example of the importance of being in touch with your community's needs, goals, and desires when planning peer fundraising.
FPWR's online peer fundraisers strengthen its work to advance PWS research by creating a community of people working together toward that common goal. And that gives parents of people with PWS hope for the future.
You Are Not Alone
Many businesses, organizations, and individuals are still struggling as a result of the pandemic. Yet these hard times have taught us to appreciate the gift of life and the joy of being together, whether it's online or in person.
I know I've found an even deeper appreciation for the hard work of the nonprofit organizations that are making the world a better place—even in the worst of times.
I still hope to see you on the dance floor soon, but until then, staying connected and creative can help us make it through.
Cat Capellaro is a writer at Yodelpop. She is a musician, playwright, and journalist whose work has included serving as arts and culture editor of Isthmus in Madison, Wisconsin, managing editor of Rethinking Schools, and reporter for Wisconsin Public Radio and WORT-89.9 FM.