Hiring a Nonprofit Marketing Agency — the Why and Hows for Success
Created by Camille Winer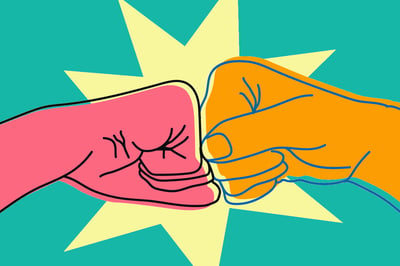 Does your organization need better marketing?
Are you feeling overwhelmed and think you might need some professional advice or assistance?
Are you wondering how a marketing agency can help your nonprofit reach its potential?
Small businesses, nonprofits, even larger organizations — any team can be understaffed, under-resourced, or simply not have all the marketing expertise needed internally. And marketing can be overwhelming.
Maybe you don't have a marketing strategy right now. Maybe it's hard to implement that strategy. You may be reinventing the wheel every year, every quarter, every month, or even every day trying to figure out the next big tactic. You might not have enough capacity to execute everything that needs to be done. You may have a skeptical board that's always asking, where's the ROI on hiring a marketing agency?
Fundamentally, you may be wondering, where do we even start?
Begin by Identifying Your Objectives and Goals
It's important for an organization to ask, "what are we trying to do? What are the objectives of the organization that require marketing in order to achieve them?" Answering this question leads to further avenues to explore:
What are our specific marketing goals?
Are there revenue goals?
Are we looking to increase the number of members or donors or attendees at events?

Do we have soft goals, like expanding our impact?
It helps to be as clear and specific as possible. Brainstorm goals, winnow them down, get participation and agreement from key stakeholders. And get ready to ask — and answer — a lot more questions.
Take an Inventory. Ask Lots of Questions
Next, take an inventory of what your organization is currently doing to meet its goals and objectives. What activities are you doing right now: Are you doing content? Social media? What email marketing do you have? Document this so that you can see it all in one place. Then look at overall spending on marketing. Are you spending money on vendors and contractors? Do you have an internal team? What are their salaries? Do you have an advertising budget, web hosting, email and marketing platform? Look everywhere to see where you might be spending on marketing.
With costs in hand, it's time to look at results. What are you getting for your marketing time and dollars? What are you seeing from these efforts? Do you have data? Email analytics? Are you getting good open rates, click-through rates, etc.? What does your traffic look like? What about leads? Conversion rates? Maybe you don't even know what those are. If you don't have this kind of information, a good action step is to look at how to get it.
Assess Your Needs and Capabilities
At Yodelpop, we help organizations figure all of this out. When you know the organizational goals and objectives and the results of what has been done so far, it's time to ask what we need to change or add to what we're doing, in order to meet these goals.
This will likely mean relooking at what you're currently doing and what you have, such as advertising and website functionality and software integration. Does the organization need to scale up efforts to meet its objectives? Usually, the biggest thing is identifying what marketing skills and expertise are needed to meet those scaled-up objectives.
Consider Your Timeline and Capacity
It helps to have a common understanding across your organization about timelines. Exactly how long do you think it will take to meet these needs? And success, what does that look like? When you invest in a marketing and sales program, success probably looks like meeting or exceeding your goals, right? There are other things too. We want to create a sustainable program. And that requires creating alignment among internal stakeholders. Similar to how you want everyone to agree on the mission and goals of the organization, you want that alignment on a marketing program as well, to make it more effective.
A good indicator for success is knowing that you're creating a seamless experience across the entire customer journey. You want to know that what you're doing is sustainable, and even scalable. Data and analysis are really helpful here, and so is capacity. Can your organization keep up its efforts? Is it overwhelming just keeping your website content and experience dynamic and updating your SEO (search engine optimization)? Do you have processes and systems delivering email marketing, advertising, sales alignment, all of this? This might be more than one or two full-time employees can handle or have the skill sets for. And in the current market, many organizations are experiencing challenges with hiring and staffing.
Why Hiring a Marketing Agency Makes Sense
So how can your organization ramp up capacity and fulfill its marketing needs?
In addition to the challenge of a tight labor market, hiring can be pretty costly. Just adding a digital marketing manager can potentially add an $84,000 salary to the organization. And then there are the specialty areas you will need to hire out for, including data research, copywriters, designers, web developers, and more to create and deliver assets for marketing. This is where the benefits of hiring a partner marketing agency come in. With a partner agency, first and foremost, you are getting a full stack team. You're getting the full spectrum of the agency specialists working together. Not only do they bring different areas of expertise, but they're also working together on the same team. They're not siloed. You've got a team working on strategy. You've got content creators, web developers and designers, and SEO experts. Your partner team will be able to cover social media and email marketing, advertising, sales alignment, and all of the technology and potential integrations that may be needed to carry out your marketing program.
The Value of Inbound Marketing
Here's a snapshot of what the approach at Yodelpop looks like. We use an inbound marketing methodology. The inbound approach is totally focused on the audience, the supporter/donor/member, and creating a journey for them that's effective in engaging. We use this across the board for all marketing assets, whether it is content, email, marketing, social media, or even websites.
And inbound is proven, and especially suits well for working with nonprofits, because it's about attracting the right audience and providing value to that audience. That's why it's so effective.
So as for hiring an agency, you want to engage one that has a methodology that they believe in, and of course, experience. You want to have the full spectrum of an agency's experience and perspective. That's what you get when you engage a good agency — a perspective on the whole marketing and sales industry, but also their niche expertise. Like our agency, we work with nonprofits and associations. We know best practices. We've done research. We have a handle on industry standards. We have the experience of doing this over and over for different types of organizations.
What to Look for in Choosing an Agency
There are many things to consider when seeking out professional marketing support. Here are a few elements:
Efficiency. If they're a good agency, they will have worked efficiency into their program, because that's an important element of sustainability. They'll have a handle on sales and marketing alignment and will understand what it means to have ROI from your marketing program.
Methodology. Find an agency with an approach that fits with the culture of your organization and field. Do they rely on data and analytics; is it central to their work? Ideally, they should collaborate with you as a close partner in achieving your goals.
Full Service. Most agencies have tried and true processes, tools, and systems already in place with their account management, project management, software automation, and other marketing software. And they have expertise in the necessary integration.
Proven Success. When you have a good partnership with an agency, you can expect to see some big wins. As an example, since working with us on an inbound marketing program, one of our clients, a medical research foundation, has seen over 75% monthly increase in their traffic, along with a 55% increase in leads, and an increase in donors of more than 2000. Look at your prospective agency's website or ask them about case studies that illustrate their results.
Research Is Indispensable. Rather than posting a request for proposals (RFP), ask for referrals. Ask your network. Check LinkedIn, Hubspot, or other resource sites and organizations. When you narrow down your search, request a connect call with the agencies. Notice how they interact with you. Are they asking the right questions, like the ones above? A great partner agency will seek to understand your work. They will want to discuss your mission and goals in a way that will let you know that they get it.
Nonprofit Know-How. A great partner agency will speak your language. They'll understand the nonprofit space, have an understanding of who your internal and external stakeholders are, and get the different roles they play in the organization. They will understand the needs of your audience, and they will have a handle on how marketing and sales applies to the nonprofit sector. They'll likely have experience working with a board, and they will have experience creating nonprofit content and nonprofit marketing assets.
A Clear Strategy. Look for an agency to present a clearly defined strategy and delivery plan to assimilate their systems with yours and meet your objectives. There should be a focus on exactly when assets are going to start to roll out and how quickly that marketing plan is going to be executed. And you should both be on the same page about when to expect results.
Take the Time it Takes — Find the Fit
And so if you are considering hiring that partner agency, our biggest advice is, take your time to work through the process and find the best fit. Do the research and have a lot of conversations, because a lot can come up in conversation that cannot come up in, say, an RFP process. Think about what's going to be sustainable. Involve your internal stakeholders in the decision-making process. Taking the time you need to find the right nonprofit marketing agency for your organization will pay off in the long run.
For its part, Yodelpop will be happy to have a conversation with you as you do the research to find the right agency to achieve your goals. We want all nonprofits to thrive — to ramp up the great work you are doing to make a better world.
Camille is co-founder at Yodelpop and is web and creative director, as well as designing strategies, processes and programs around the HubSpot growth stack system. Camille lives in Highland Park, Illinois, with her husband and two sons. She was president of her high school theater guild and still enjoys a little drama from time to time.