Making the Case for Marketing Automation At Your Nonprofit
Created by Jackie Lalley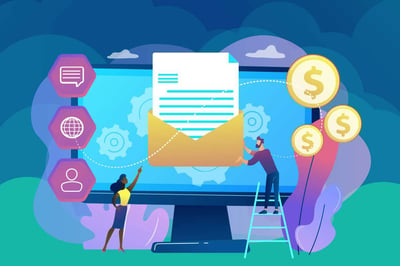 Nonprofit marketers have a foot in each of two worlds: there's your mission as a nonprofit, and then there's your role as a marketer. While your overall mission and goals are shared with your organization, when it comes to things like marketing automation, you may be the only one who understands why it's needed.
When you're familiar with what marketing automation software and processes can do, it's easy to see the lost opportunity when your organization doesn't have them. How can you get others on board with the solution that you know you need?
In this blog, I'll provide a brief outline to help you make the case to adopt marketing automation software at your organization. Wherever you see brackets, you can customize the content for your nonprofit or association and use it when meeting with others to make your case, whether in a meeting agenda, presentation deck, or other materials.


The Case for Marketing Automation at [Your Organization]
Our goals:

[Customize and add to these, pulling from your nonprofit marketing plan]
Membership: Increase new members 20% by end of year
Increase contacts in our CRM/database to 10K by end of year
Reduce email bounce rate to 2%
Improve email open rate by 10%



Our needs/challenges:

[Customize and add to these]
Little/no automation for processing/removing bounces, etc.
Limited ability to schedule emails
Limited/lack of ability to personalize/customize email (subject line, etc.)
Reporting is manual and granular
Data not flowing between CRM/database and email solution



Plans:

Adopt a marketing automation solution [insert solution, e.g., HubSpot Marketing Hub Pro]
Integrate CRM/database with marketing automation solution



ROI opportunity:

Increase staff availability for other marketing tasks: [insert estimated number of hours per week or month]
Increase revenue opportunity through [customize tactics, e.g., lead generation and lead nurturing]
Reduce expense by consolidating marketing technology [list tech you will no longer need]



Stakeholders/decision makers:

Communications & Marketing Strategy - [Insert MarComms Name/Role]
Integration & Implementation - [Insert IT Name/Role]
Budget Considerations & Approval - [Insert Finance Name/Role]



Next steps:

Internal discussion/research: [Insert date]
Budget approval: [Insert date]
Present a solution at [Insert date] board meeting
Adopting a marketing automation solution at your organization will save you time, and that gives you more resources to reach your goals. By making the case and pulling together the right partners, you're on your way to having the solution you need.
Jackie is co-founder and director of content at Yodelpop. She previously served as director of communications at a national nonprofit. Jackie enjoys playing upright bass in a bluegrass band and practicing Iyengar yoga (though usually not at the same time). She lives in Milwaukee with her family.