The Power of Story: Nonprofit Storytelling That's Authentic and Organic
Created by Cat Capellaro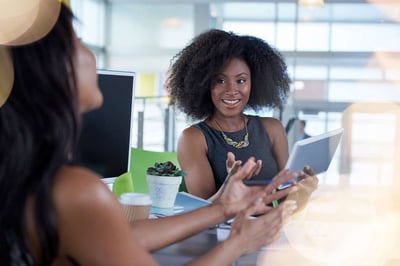 What's your story?
Nonprofits are made of stories. By their very nature they are mission‑driven organizations that are designed to make the world a better place.
As most nonprofit leaders will tell you, they're not lacking stories. But they might be short on resources or time. And many are seeking strategies that attract supporters and donors to build capacity.
How can nonprofits do a better job of sharing their stories with the world?
The Power of Story
For as long as humans have been around, we have shared stories as a way of understanding each other and our world. From sitting around fires to pyramids, from story slams to television, we are hungry for connection—for the empathy and understanding that comes from a well‑told story.
Of course, now we have the internet. It's both a blessing and a curse when it comes to storytelling.
The first thing to acknowledge is that not all stories are equal. There's a qualitative difference between telling a story in order to get someone to buy or do something and telling a story that has value on its own—a story you'd want to share no matter what the result might be.
In this delightful infographic from ReferralCandy, you can find a helpful list of what storytelling is and what it isn't. It's not a 10,000‑word screed, an advertisement, a sales pitch, your sales goals, or information about your brand. It is an emotional and engaging narrative that includes useful information. It is not about your brand; it's about what your brand stands for, and your supporters. And it's not just pushing content at them.
Storytelling at its best is engaging and interactive.
Story Arc
As the infographic puts it, storytelling isn't "something 'cool' that happened." Good, engaging stories have an arc: a beginning, a crisis, and a resolution.
In my life as an artist, I've written many plays and musicals. They are stories. In recent years, I've participated in short‑timeline projects as part of a collaborative group in Madison, Wisconsin, called Are We Delicious?
We start warming up our storytelling brains by writing teeny tiny stories that go something like this:
Every day, [something would happen].
Then one day, [something new happened].
Because of that, [something changed].
After that…..
Nonprofit storytelling isn't exactly the same as playwriting, but the same principles apply.
Even though the internet is teeming with stories of all kinds, people still respond to content that helps them identify with your brand and mission.
Building a Community Online
The word community might be overused, but it's the best word we have for a shared experience. What brings us together is stories that tap into shared feelings: inspiration, hope, sadness, anger.
As our partners at HubSpot put it, "Stories make us human." HubSpot's Ultimate Guide to Storytelling is a terrific introduction to the essentials of online storytelling. "Stories solidify abstract concepts and simplify complex messages," they write.
The guide shares some components of a good story.
Entertaining. The reader wants to know what's coming next.
Educational. It adds to the reader's knowledge.
Universal. It taps into emotions and experiences we all share.
Organized. It is clear and conveys a core message.
Memorable. It stays in the reader's mind.
I'd add that a truly memorable story goes even deeper than the mind and into the heart.
Like Robert and Shadow's story.
Stories that Convey Mission: Robert and Shadow
One Health Organization is a nonprofit in Northeast Ohio with a mission of keeping the cats and dogs of Northeast Ohio with their humans at home. That's a mission, not a story. But as an animal lover, I already want to know: How are they doing it? What do they mean by that? And once I read Robert and Shadow's memorable story, I wanted to know how I could help.
Here's the story plugged into that brainstorming format.
Every day, 80‑year‑old Robert grieved the loss of his wife and his dog. He lived alone and struggled with PTSD from his military experience.

Then one day, several nonprofits worked together to match Robert with Shadow, an abandoned puppy who trained to be his service dog.

Because of that, Shadow came to live with Robert, and his vet recommended he apply for One Health Veterinary Care Vouchers to help him to afford Shadow's vet bills.

After that, Robert and Shadow became inseparable. "I don't feel alone anymore because Shadow is with me 24/7," Robert says.
One Health Organization's mission shines through in this story. The nonprofit wants to help more people like Robert continue to live with their animals, and when they share this kind of story, their supporters are drawn in.
The blog post ends with a CTA: "Learn More About How You Can Get Involved."
Stories that Teach and Inspire: Foundation for Prader‑Willi Research
The Foundation for Prader‑Willi Research (FPWR) is a nonprofit that is aggressively pursuing research and development of therapies to treat this rare genetic syndrome. They've only been around since 2003, but they have raised millions and helped children with Prader-Willi syndrome (PWS) lead healthier and more fulfilling lives.
The organization was started by parents of children with PWS, and they do an excellent job of describing life with PWS and motivating people to get involved. Their website features guest blogs by parents who share their own stories of diagnosis, treatment, and life successes.
In one, Jeannine, mother of Caitlin, described her journey of accepting that her daughter would live with this challenging condition: "How could my daughter have a condition for which there was no solution? I immediately asked, 'If I started fundraising for research, where can I send the funds?'"
The Healing Power of Story
Storytelling is too important to be an afterthought. It can actually move people from a point of inert despair to inspiration and action.
If you do a bit of preparation, it will go more smoothly. Take the time to learn who your audience is. What are the kinds of stories they are looking for? Do you want to inspire, teach, connect, or convey values? And how are you going to get the content out to the right people? Knowing your audience will help you decide whether using blogs, e‑newsletters, ebooks, podcasts, video, or social media is the way to reach and engage with new supporters and donors.
Above all, stories should be engaging and delightful. That's why we do this.
When I read the news in the morning, I feel an ache in the pit of my stomach. The war, climate crisis, disease, and cruelty can feel like too much. Then I see a story like Robert and Shadow's and I remember that the world is complicated, and people are dedicating their lives to making it better. And they show me how I can help.
We all need to hear those stories.
Cat Capellaro is a writer at Yodelpop. She is a musician, playwright, and journalist whose work has included serving as arts and culture editor of Isthmus in Madison, Wisconsin, managing editor of Rethinking Schools, and reporter for Wisconsin Public Radio and WORT-89.9 FM.