In this stage, your new website visitors—who are now leads—should be nurtured with a continuous supply of fantastic content. This is also a good time to discover more about your prospects. Which pieces of content do they gravitate toward most? How can you craft ads targeted toward your audience's most frequently asked questions? How can you personalize their experience with your company, speaking to leads as people, rather than faceless visitors?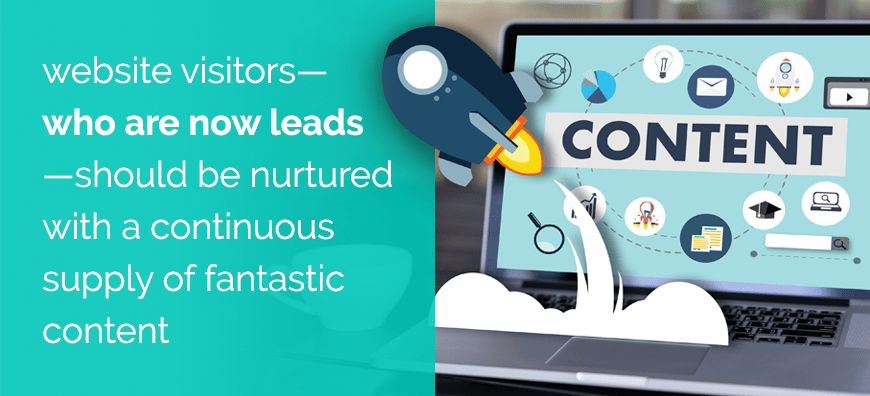 For most companies, offering visitors helpful, specific content requires a minimum of two to eight blogs per month, multiple social posts each week, and a monthly e-newsletter. Utilize a CRM (customer relationship management) such as Hubspot to leads' action on your blog and website, then trigger follow-up emails or content offers that guide them closer to making a purchase or donation.
If you're wondering how to come up with all this content, you're not alone. But creating content shouldn't feel like throwing spaghetti at the wall to see what sticks. You need a strategy. A winning content strategy includes a list of offers, or premium content, offered on your website, as well as a content calendar for blog posts.
It's crucial for all content, at all stages, to have a clear call-to-action (CTA). There are many fantastic ways to guide your leads into a deeper relationship with your organization:
Subscribe to your blog
Sign up for your monthly e-newsletters
Comment, share, or like a blog post
Make an appointment
Schedule a discovery call
Download an ebook or other lead magnet deliverable
Don't forget to create compelling landing pages for your lead magnets. A landing page is a web page your user lands on after clicking the CTA. It should include the same language as the CTA itself, a clear offer, image, and brief description. Once someone reads through the copy on the landing page, they will decide whether to click "download" or fill out the form.
Closing the deal at the end of the "engage" stage looks different depending on the structure of your organization. For businesses, the goal is to turn visitors into customers. For nonprofits, the goal is to turn visitors into donors. No matter how it looks, it should feel genuinely beneficial for all parties. Nurturing the relationship is more important than a one-time sale.