A Guide to Successful Marketing for Nonprofits
Created by Cori Albrecht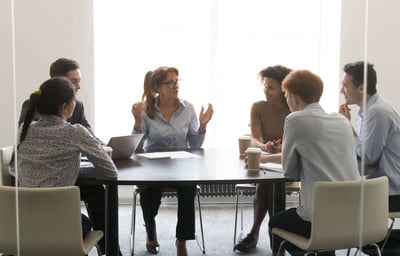 If you're a nonprofit marketer, you've probably witnessed drastic changes to your role in recent years. The rise of content marketing has caused nonprofits to rethink their marketing strategy and focus more time (and funding) on creating content that attracts a digital audience.
In 2018, the Content Marketing Institute presented a research‑based "30‑minute hack" for nonprofit marketers to get better results. The half‑hour fix was straightforward:
Clearly define the why and how for your nonprofit.
In nonprofit circles, we talk a lot about mission—why the organization exists. But have you performed a similar thought exercise for your marketing efforts?
What's the "why" behind the marketing for your nonprofit? Here are a few ideas from HubSpot:
To raise awareness for the mission
To raise new funds
To drive donor engagement and recurring donations
To recruit new volunteers
To promote your services to the community


5 Steps to Creating a Nonprofit Marketing Plan
Now it's time to figure out how you'll make it all happen.
1. Consider using a marketing plan template.
No two organizations are the same, and your marketing plan will need to be customized for your strategic plan and mission. There are tools to help you get started and to make your planning process easier. Yodelpop's nonprofit marketing plan template can be downloaded as an MS Word/Google Doc or as a PDF. It provides a road map for planning many of the essential nonprofit marketing activities.
2. Dust off your strategic plan and define your goals.
Locate your nonprofit's strategic plan and prepare to dig in. What are the goals for the next quarter? How about the next year?
Brush up on the core objectives (data‑driven benchmarks) of the plan and pinpoint which activities staff should do to achieve those objectives.
Your marketing plan must directly relate to the strategic goals and programmatic work of the nonprofit.
3. Identify your nonprofit's audiences.
Now that you understand your organization's current strategic goals, who do you need to reach to achieve those goals? Defining your audience(s) is critical to ensuring a return on investment.
A few places to start:
Membership and demographic data
Current marketing statistics, segmented by audience
The most important thing is that you take a break from talking about what you do and ask—who cares? It's not a rhetorical question. Write down the answers.
4. Gather relevant data about your audience.
Look at your goals and your list of key communities, then tie them together with relevant data.
For example, let's say your nonprofit aims to increase financial literacy in the Asia‑Pacific region. Through staff research or by hiring a marketing agency, you learn that 64% of mobile device users in the region say they are most likely to purchase financial products based on online product reviews.
Relevant data will guide you toward marketing activities that work. Now you know that a social media campaign might be a great place to start. At the very least, you realize it's time to pepper your website with testimonials and positive feedback from your audience rather than your staff.
5. Make a plan.
Now you're ready to plan and create a detailed marketing plan. As you map out marketing activities for the next quarter, retrain and restrain yourself. Every single marketing activity should relate to your nonprofit's current goals and audience.
Your response to every idea should be: What strategic goal will this accomplish? Does the data suggest that this idea will effectively reach our target audience?
It's also helpful to scrutinize past activities in this light. Which tactics have moved the needle in key areas? Which marketing activities have made the most impact on key audiences? As annual activities and events come up, ask yourself, "Are these tactics or just traditions?"
5 Effective Nonprofit Marketing Tactics
If your nonprofit is stuck paying for billboards or sending out paper newsletters, you might wonder which marketing tactics you can add to your arsenal. Here are just a few examples:
Virtual events
Live fundraisers
Social media infographics
Below, we dig into this last tactic to demonstrate how a single marketing activity can stay relevant to your nonprofit's goals and target audience.
Nonprofit Marketing Tactic: Infographics
Of all the creative marketing tactics, infographics are among the most useful to nonprofits. Everywhere you look there are examples of data‑rich graphics that inspire, educate, and engage potential supporters.
Infographics work because they:
Help people to quickly grasp complex issues in the community
Are easy for donors and participants to share on social media
These are the steps to creating an infographic that is relevant to your goals and audience.
Know the infographic's purpose. Will the infographic help explain your nonprofit's mission? Or will it describe a problem in the community, then offer your nonprofit's solution? Decide what you want to achieve before you begin the design process.
Start with a paragraph. Infographics tell stories. What story will accomplish the purpose defined above? Sit down and write that story in one paragraph.
Find supporting data. Your infographic's story is part of a larger story. Adding data and statistics helps validate the problem and your nonprofit's solution.
Don't confuse length with quality. Simple is almost always better. The details of your nonprofit and the communities you serve are complicated. Your infographic should get the point across in as few words as possible.
Add a call to action. This single infographic should tie into a larger marketing campaign, which is directly related to your strategic goals. Do you want viewers to share? Click on the link to read the full story on your blog? Sign up for your email newsletter? The infographic should draw viewers into deeper engagement with your nonprofit.
Getting Started
Marketing for nonprofits can seem overwhelming. Don't get discouraged or bogged down in the details. In the next month, make it a priority to:
Define your organization's strategic goals.
Identify your target audience.
Gather relevant data about your audiences.
Develop a marketing plan for the next quarter.
By tying each marketing activity to a larger goal and target audience, you'll be well on your way to raising awareness about the mission and funding needs for your organization.
Cori is a senior account manager at Yodelpop. She has more than 20 years of marketing and communications experience. Prior to joining the Yodelpop team, Cori worked with hospitals, health systems, and medical associations on media analysis, branding, and strategic planning. She has created and executed multi-faceted campaigns and been on the ground floor of launching and growing new brands. Cori has an undergraduate public relations degree from Roosevelt University in Chicago, and multiple HubSpot and Google certifications.