How To Create Content for Association Marketing
Created by Cori Albrecht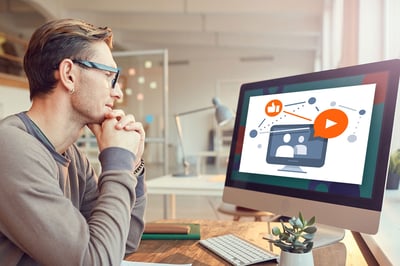 Did you know that professional associations have advantages when it comes to creating marketing and SEO content?
While many nonprofits have to create educational content from scratch, as an association, you've got sources of content such as events, presentations, and more — because your mission involves sharing valuable information with your membership.
Below, we'll discuss how to leverage what you've got to raise your visibility among potential members, and increase your value to current members.
Why Associations Are a Natural Fit for Content Marketing
Your association is already creating content to serve your members, helping them succeed in their profession or field. All of those conference sessions, journal articles, and webinars that add value to membership can be channeled into content marketing to attract new prospective members. It's all about finding the nuggets of content that you can extract for marketing purposes, without "giving away the store."
One common objection that association marketers encounter is that content should be reserved for association members. After all, members — and the companies and organizations that employ them — pay dues, and without benefits such as exclusive content, they won't feel appreciated and continue to support the organization with their dollars.
But that objection ignores the fact that without marketing content, the association can't effectively recruit new members. You need social media, blogs, videos, ebooks, etc. to reach prospects, whereas white papers, salary surveys, expert e-newsletters deliver the in-depth knowledge your members expect. It's all part of mapping content to different stages of your members' and prospective journey.
The good news is, the same sources can be used to create a range of different pieces of content for different audiences at your association. The section below explains how.
By developing an effective content marketing strategy, you can increase brand awareness and conversions. You'll build membership while also establishing yourself and your organization as an industry leader.
Content Marketing Sources for Associations
The first step in understanding how to create content for association marketing is to locate your content sources.
For example, think of a conference presentation as a source. You'll have a transcript, video, and deck, and these raw materials can be mined to create multiple pieces and formats of content across channels. You can turn that source material into a webinar. Or you can turn it into explainer videos and promote those on social media. Or put them in a blog. You can make bite size videos and put those on social media. You can also create blog posts and pillar pages off just that one conference session.
Your members and your internal experts are great sources for content. Working across the association and across teams, you can access their expertise to create content with interviews, online questionnaires, and more. Their stories will resonate with members and prospective members, enhancing the sense of community that your association creates.
It's a mix-and-match world of content recycling possibilities out there — all to create content for your association audience. Your association has a unique story to share — and the content is likely already out there, ready to be packaged and platformed to build your brand.
PRO TIP: You'll need to bake the creation of content into each event or major publication that your association is planning. Add marketing and member content items to the planning tools that your association uses when planning these projects, so they're not an afterthought but are an expected outcome. Planning a research project? Include infographics, blog posts, and fact sheets in the plan, as well as the complete research publication.
MAKING THE CASe FOR Content Marketing AT YOUR ASSOCIATION
Data and analytics are giving associations new ways to recruit, retain, and engage with their members. Content is vital because it:
Helps educate members and prospects about your products and services

Builds relationships between your members and your organization that results in increased loyalty

Shows your audience how your products and member services solve their challenges

Creates a sense of community with your brand.
Content boosts conversions. Without it, your social media followers, for example, can't be nurtured in the journey toward association membership. A prospect needs to "hear" an advertiser's message at least seven times before they'll take action. By using content mapping tools to share select pieces of your most valuable content, you can in exchange earn the trust of member prospects that you can:
Communicate with

Build a relationship with

Encourage to join your association when they're ready
Provide Content for Every Career Stage
Think about the population your association serves, when they're at the start of their career or the journey you're supporting them on. Those at the beginning of that journey are likely to have different challenges and goals than someone who is a career professional. Plan content — from the sources you already have — that meets your members at every stage. Understanding where they are and what kind of pain points they have at each stage along that buyer's journey will help you to nurture a contact with varying content all the way through to joining.
Example: Your association has an ultimate guide to your field. You build it up as an introductory offer, and generate traffic through a simple form. Then you email those contacts information based on either their actions or your typical sales cycle. As your contact moves along, offer them things of value, perhaps your compensation survey or links to webinars you're offering, and then ultimately, if they join, you offer them the guide to the field you have been promoting since initial contact.
Create a Membership Benefit Download
Membership benefits can be complex, and your association may have different levels and types of membership, all with different costs. If you work at a professional association, your prospects most likely need to make the case for investing in membership with their boss.
Downloading a field guide to member benefits can be helpful as prospective members engage in the process of deciding to join, and at what level they should join. They can take it to their boss or financial administrator, and share it with colleagues. While you may think of your member benefits as just a simple bulleted price list, we've seen many associations gather valuable leads from a more fleshed-out member benefits download — leads that they then nurture into members and delight through ongoing association involvement.
Looking Ahead
Valuable content builds relationships that build on trust— and that trust will drive revenue as it grows your community. It's a long game, but one that pays ample dividends. Inbound marketing:
Costs 63% less than traditional outbound marketing

Focuses on attracting the right visitors, those who are a good fit for your association

Cultivates relationships through meaningful content at all stages of the member's career
In short, it's a self-perpetuating win-win for your association and your members.
Cori is a senior account manager at Yodelpop. She has more than 20 years of marketing and communications experience. Prior to joining the Yodelpop team, Cori worked with hospitals, health systems, and medical associations on media analysis, branding, and strategic planning. She has created and executed multi-faceted campaigns and been on the ground floor of launching and growing new brands. Cori has an undergraduate public relations degree from Roosevelt University in Chicago, and multiple HubSpot and Google certifications.