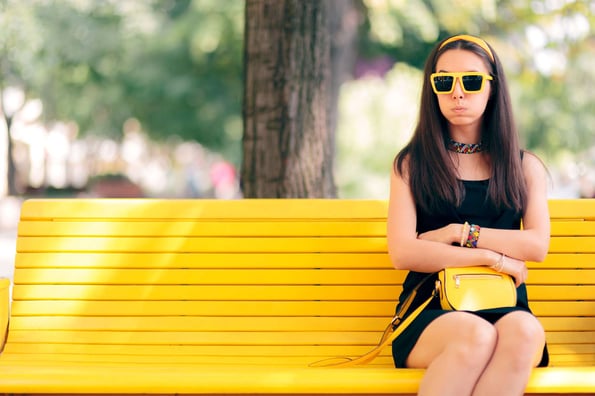 We're geeking out over the release of new features on the improved HubSpot CMS Hub Pro and CMS Hub Enterprise! To celebrate, we want to help you with your WordPress breakup list, plus frequently asked questions (and the answers) we get about WordPress and HubSpot, why we recommend migration to HubSpot, and some things you can expect with a migration.
Let's get right to it!
Sorry, WordPress: It's not so much that we've grown, it's just that you've stayed so small.
This variation on a line from the Shel Silverstein poem The Oak and The Rose expresses our sentiment toward WordPress. This open-source content management system historically helped us build comprehensive, richly featured websites for business and nonprofit clients without the software licensing fees. We were grateful for this foundational tool in the early days, but at some point we began to outgrow WordPress. We realized there was something better than spending New Year's Eve rescuing a client's website from the dreaded white screen of death, fatal server errors, or porn hacks.
Lucky for us, not only did online communication evolve, but the inbound marketing revolution called for better systems built for growth—and we grew.
WordPress: content to stay small (see what I did there?)
WordPress is an open-source content management system that was created during the blogging revolution as a way to democratize the ability to start a blog. "Open-source" refers to a specific approach to creating software systems where projects and products are created through open exchange, collaborative participation in community-oriented development.
In the case of an open-source project like WordPress, this means infrequent updates are made to the core product, which can affect other aspects of their software, like third-party plug-ins. No matter how open-source software continues to evolve and improve over time, there just isn't a way to ensure that updates won't break the site and content, especially since many quickly growing companies have between 30 and 50 plug-ins, which results in a lot of technical complexity and security concerns.
As a result, a technical resource is required to test plug-ins and updates before rolling them out to ensure that a plug-in doesn't suddenly stop working once an update is installed, and a regular resource is needed to monitor, update, and maintain the software to protect the site from breaking, potentially leading to major downtime and extra costs in rebuilding.
Another major issue affecting open-source platforms is security. Reports of massive hacking incidents, or news about user information being stolen, are commonplace with platforms like WordPress. Search engines look for sites to be secure: HTTPS protects websites from attacks and gives visitors confidence that your site is authentic and trustworthy.
Breaking up (and continued growth) is easier with the CMS Hub
A major shift in our web development work took place about seven to eight years ago when we explored and adopted HubSpot's new website platform, then named the content optimization system (COS). Most notable change: we got our New Year's Eve back! Clients migrated over to HubSpot, and we never again had to deal with a website emergency. Suddenly, we were able to spend more time on clients' marketing, and we watched website analytics improve.
HubSpot's website platform has evolved into what is now the new CMS Hub (Professional and Enterprise): world-class tools built for fast-growing companies who are tired of being held back by clunky content systems that require heavy maintenance and make it difficult for marketers to get their work done. The CMS Hub gives both marketers and developers the tools they need to create amazing websites focused on the customer experience.
WordPress breakup list item #1: An alternative to hidden fees–updates, backups, and maintenance
WordPress is an open-source software package that must either be installed or configured on a server. This means you need either a hosting account or an internal server and a dedicated IT resource . Additionally, you have to regularly maintain, update, and troubleshoot the installation and its plug-ins, which requires an ongoing technical resource, ideally a monthly maintenance plan ranging from $200 to $500 a month, depending on the size of the site.
With HubSpot's CMS Hub, everything is included in one monthly fee. HubSpot employs a world-class engineering team that frequently updates (and improves) the cloud-hosted software, all behind the scenes so you never have to worry about updates impacting your site or content. The platform includes the essential features that you need by default, such as spam protection, SSL, caching, SEO, and more. Yet these tools don't create clutter the way the WordPress system does, which results in slow load times that cause visitors to bounce before the page even loads.
With CMS Hub you don't have to worry about the speed, security, or reliability of your CMS. As a SaaS CMS with a globally hosted CDN, 24/7 threat monitoring, and a web application firewall baked right in, HubSpot takes care of system maintenance and backups for you so you can focus on providing the best possible website experience for your prospects and customers.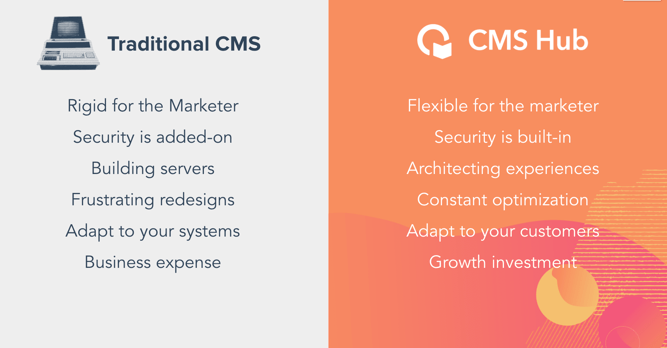 WordPress breakup list item #2: Goodbye expensive troubleshooting and overly complex development
HubSpot has around-the-clock technical support available for any website issues at no additional charge. WordPress has no technical support.
WordPress is a clunky system with disjointed, heavily coded elements and files. A WordPress website on the back end often resembles a complex house of cards, and inheriting a customized build can turn into an impossible and futile research project that is often scrapped in favor of starting fresh. WordPress projects are famous for exhibiting the concept of scope creep, when a website design project goes way beyond the originally estimated budget.
A dream for developer and marketer alike
The latest version of the CMS Hub platform is built with tools that are familiar to developers proficient in WordPress. CMS Hub site page development is streamlined; it is less time consuming and therefore less expensive to make layout and style changes, modules, and marketing assets.
HubSpot has default themes and modules to create a beautiful website that matches your brand, or you can have your developer create something customized. Either way, you can effortlessly edit your site with drag-and-droppage editing that puts the marketer in control. You can also easily extend your content by leveraging the apps and website assets listed in the verified HubSpot marketplace.
CMS Hub allows marketers to take ownership of the website. By leveraging the tools and content creation experience created for them by the developer, they can make changes to their website as they see fit, instead of having to rely on their developer to make simple updates within their own timeframes. CMS Hub allows the marketer to focus on the customer experience, instead of on their internal systems.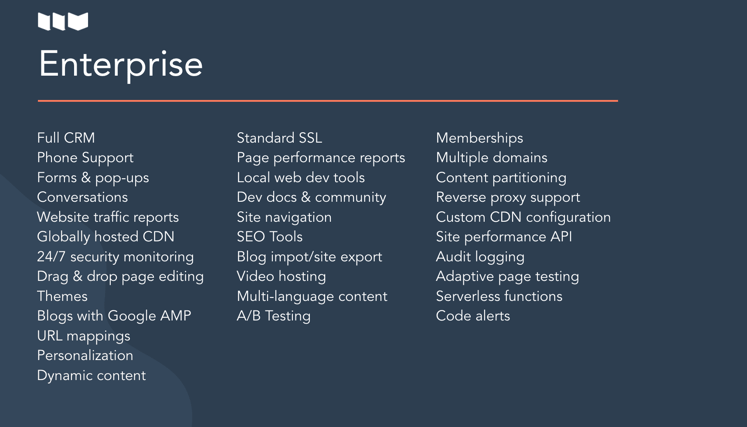 Breakup list item #3: So long stagnancy, hello growth
WordPress is meant to create highly technical (yet often unsteady) digital brochures that aren't that engaging. The foundation is not built on traffic optimization, lead generation, or sales or service tools that naturally integrate to help your organization grow.
CMS Hub comes with a professional CRM, so you can personalize content to your customers' needs and report on the success of your content with features like contact attribution reporting. You'll also have access to the conversations platform, including chat and conversational bots.
With the extended HubSpot growth suite, you can have a unified CMS, marketing sales and service hub, optimized for marketers, lead generation, sales activities, service activities, and comprehensive reporting. HubSpot's growth suite allows you to see the power of integrating your marketing, sales, and services efforts into the same platform as your website.
With the CMS Hub, you also have contextual marketing features to serve visitors and contacts tailored content at the right time, in the right place. Smart content lets you show content that is appropriate to the stage in the buyer's journey or traffic source. Additionally, you can perform adaptive testing to make iterative improvements based on real data to provide the best possible experience for users.
Moving out: Frequently asked questions about a WordPress to HubSpot Migration
As our clients have gotten closer to breaking up with WordPress (or any open-source platform) or are ready to move out and move in to the HubSpot website platform, here are some of the specific questions we've answered to help plan for the move, whether it's the whole website or just the blog portion of the website, into the HubSpot Marketing Hub.
Question: We're not ready to move our whole site over to HubSpot, but we are on HubSpot Marketing Pro and we want to leverage the content SEO tools with our blog content. What will happen to our site's SEO if our blog is moved over to HubSpot? Does the clout and ranking go to HubSpot?
Answer: Hosting a blog separate from the rest of the site pages on HubSpot is handled by creating a subdomain of the main domain. The behind-the-curtain tooling that powers that subdomain is HubSpot, but the authority lives on the subdomain.
For example, if your current blog is at "ourcompanydomain.com/blog" it would switch to "blog.ourcompanydomain.com". Subdomain is still a part of the main domain.
Any SEO issues that may occur due to the change in the first part of the URL segment when moving just the blog section of a website over to a new subdomain is handled with a 301 redirect strategy.
Beyond that, because a subdomain of the main domain is chosen to house the pages in the HubSpot portal, the domain equity stays.
There is always the option to host all web pages on HubSpot's CMS Hub to avoid having subdomains. Many of our clients have moved their entire site over in a matter of a year or two after starting inbound marketing/HubSpot.
Q: What about our site design? Won't the blog pages (or all site pages if we are moving everything over) look different on the HS platform?
A: The design of your site is mirrored on all pages that live on HubSpot first by the HubSpot team, across landing pages and blog pages. Once our agency takes over, we handle any tweaks necessary to make sure the design integrity is maintained.
Q: If we are just moving the blog over to HS but keeping the rest of our site on WordPress, what about when we need to make a design change? Won't we then have to do it in both platforms?
A: It's true that there are some extra steps in making sitewide changes if you have part of the site in WordPress and the blog pages in HubSpot, but the immense amount of time saved on IT, plug-ins, etc., plus the benefits of having the marketing activities and additional features under one umbrella (e.g., scheduling blog promotion), outweigh the disadvantage of having to make occasional changes on two platforms. Overall efficiency is improved.
Q: If we are doing some of the blog posting internally, we'll have to learn a whole new system, won't we?
A: This is actually a benefit. Compared to WordPress, for example, using the blog tool in HS is not only easier, but it's integrated with advanced SEO and other tools and makes the content strategy go a lot more efficiently and smoothly.
HubSpot is constantly improving their software based on best practices, Google algorithm changes, security, etc., so you can sleep at night. With open-source systems like WordPress, you have to spend a lot of time (money) with plug-ins, updates, maintenance, etc.
Many of our clients have ended up moving all of their website over to the HubSpot portal.
Q: What if we don't like HubSpot or need to sever the relationship for any reason? Will it be difficult to migrate the new blog content back over?
The blog in HubSpot can be exported and reimported back into any CMS—not difficult for a web developer to handle, and a short-term project.
In 8+ years, we have never seen this happen. Our clients have all stayed in HubSpot. Moving the blog into the HubSpot portal (and onto the subdomain) is in service to helping to meet the marketing and business goals.
Written into the HubSpot Customer Code is HubSpot's belief that they shouldn't "block the exit" if a customer wants to move on.
HubSpot has created a number of tools to help move a blog back out if needed.
Tool 1: HubSpot has a marketer-friendly content export process that will export all coded and media files.
Tool 2: HubSpot offers a set of public APIs for use by web developers for pulling blog posts, along with local development tooling for pulling website files locally.
There are also many external services that make moving on and off HubSpot a snap.
We hope this resource has helped you prepare to say goodbye to WordPress and hello to effective growth with HubSpot. To help further convince you (and your boss or teams), check out HubSpot's own page on the CMS Hub as a WordPress alternative.
Camille is co-founder at Yodelpop and is web and creative director, as well as designing strategies, processes and programs around the HubSpot growth stack system. Camille lives in Highland Park, Illinois, with her husband and two sons. She was president of her high school theater guild and still enjoys a little drama from time to time.