Yodelpop's Summer Internship: Empowering Young Talent for a Thriving Future
Created by Audrey Perelshtein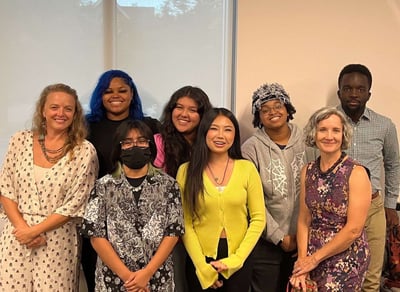 We had an amazing summer full of learning, personal growth, and teaching during our internship with six high school students.
Throughout the summer, we witnessed the incredible potential and talent of these young individuals as they embraced every challenge and opportunity that came their way.
Pictured left to right are internship coordinator Anne Koller and interns Amaya Wiley, Aryana Lopez, Mariana Rojo, Alena Vue, Astashia Wiley, Jackie Lalley (Yodelpop), and Ryin Beard.

Yodelpop decided to host its first group of high school interns as a way to build our own capacity and to contribute to closing the equity gap in the marketing and advertising field. After engaging The BrandLab to lead a Fearless workshop with our team last year, partnering on an internship program was a natural next step. The BrandLab works to empower young talent from Indigenous, Black, Brown, AAPI, and Hispanic/Latinx backgrounds to launch sustainable careers in thriving workplaces of creativity, inclusivity, and belonging.
Our other partner on this internship was News414, a service journalism collaboration between Milwaukee Neighborhood News Service and Wisconsin Watch. News414 is committed to community-driven investigative journalism that exposes systemic failures and injustices, holds power to account, and fuels residents' efforts to seek solutions to community challenges.
The intern team had an eventful summer getting hands-on experience in marketing and advertising to promote service journalism in Milwaukee's central city with News414, and we'd love to share some of the highlights with you.
June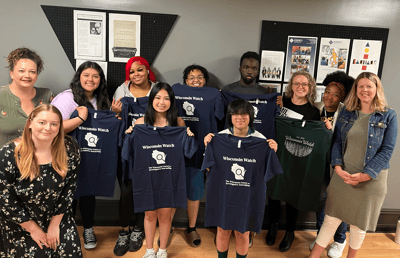 During their first few weeks with Yodelpop, the interns focused on learning all about News414 and the people they're trying to reach. They worked together (using Yodelpop's persona template) to create a persona for News 414 that represented their ideal supporters and subscribers.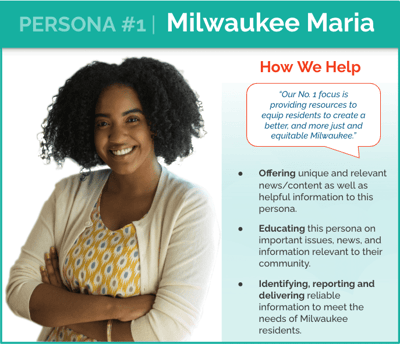 Supporter personas are fictional, generalized representations of an organization's ideal supporters. This project helped our interns understand News414's ideal supporters (and prospective supporters) better and made it easier to create marketing content that spoke to the specific needs, wants, and challenges of News414's audience.
July
With that new understanding, the intern team spent a few days researching the importance of voting in local elections in preparation for their two main projects: crafting eye-catching social media graphics and producing an educational video that highlights the importance of local elections for our partners at News414.
Check out a few of the awesome social media graphics they created based on their research:

The interns also dedicated several weeks of their summer to conducting video interviews around Milwaukee and shooting footage to be part of the educational video. Our partners at News414 arranged
valuable
opportunities for our interns to learn about crucial issues impacting Milwaukee communities and how residents can make a difference.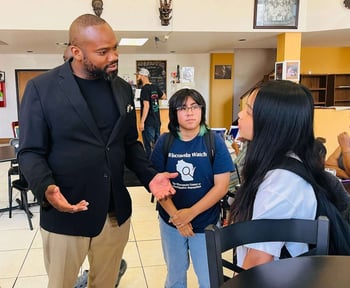 They visited Sherman Phoenix to interview small, community-based businesses and also went to Coffee Makes you Black to interview residents of the community. They're pictured to the right interviewing Alderman Russell Stamper!
Our high school interns also shot a professional video interview with former alderperson Larraine McNamara-McGraw about the importance of local elections at the Milwaukee Yodelpop Office.
AUGUST
Once the interns had finished shooting all the footage and completing their interviews, we collaborated with them to develop a comprehensive storyboard for the video. They also spent a lot of time working together to edit and finalize the educational video for News414 on the importance of voting in local elections. Be sure to check out their awesome video below:
At the end of the internship, we had the opportunity to come together with TheBrandLab to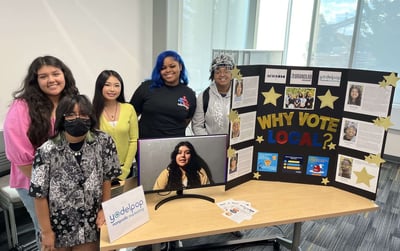 celebrate the student interns and all that they've learned, achieved, and shared throughout the summer.
It was an inspiring way to connect with all of the other agencies and organizations across Milwaukee that hosted college and high school interns to cultivate thriving workplaces of creativity, inclusivity and belonging and help change the face and voice of the marketing and advertising industry.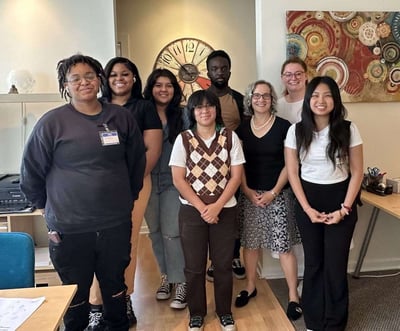 We're all feeling so much gratitude for everyone who made this partnership and summer a success. And most of all, thank you to these six wonderful high schoolers for sticking with the hard work through thick and thin, advancing service journalism and voter rights in Milwaukee, and helping to make Yodelpop stronger in its mission of promoting excellence in nonprofit marketing.
Audrey is account manager at Yodelpop. She is a full-stack marketer with in-depth marketing and communications experience. She earned a bachelor's degree in communications at the University of Wisconsin-Madison. In addition to strategizing, planning, and overseeing success for numerous Yodelpop clients, she manages Yodelpop's own digital marketing. She also leads our summer internship program!