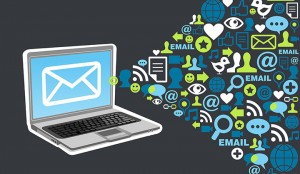 Does your email marketing go something like this? You spend hours or days writing and formatting a mixture of news and other content. You cross your fingers and click "send." There's a flash of excitement as you see a few replies coming into your inbox … only to realize that they're "out of office" notifications.
Over the next few days you frequently check your open and click rates, only to be disappointed. What's the problem? You have hundreds of contacts, but no engagement. It must be email marketing. It's facing extinction due to real-time platforms—right?
The good news—and the bad news—is that if you're not getting results from your e-mail marketing, it's you. Or, more specifically, it's your email marketing practices. According to Marketing Sherpa, email marketing is "continually proving its worth through better delivery practices, more advanced design and strategic integration with other channels":
82% of consumers open emails from companies. (Litmus.com)
77% of consumers prefer to receive permission-based marketing communications through email. (ExactTarget.com)
64% of decision-makers read their email via mobile devices. (TopRankBlog.com)
59% of companies are integrating email and social channels together (Econsultancy.com)
60% of marketers believe email marketing produces positive ROI (MarketingSherpa.com).

Here are 5 steps to help make your email marketing program more effective:
1. Earn your email subscribers.
Don't purchase lists. Tell your prospective subscribers exactly what they'll get from you that is valuable, relevant, and meaningful to them. Is it tools and tips that you're offering? Product updates? Offers? They don't want clutter—they want value. Connect what you offer with what they are interested in on your website.
2. Send the right information to the right people.
Segment your list. If you learn exactly who the different personas are that make up your ideal customers, you can then begin to segment your list based on those profiles. Segmenting also helps you to gauge the activity of different types of prospects and continue to help you offer the content they're looking for. If your customer were interested in a red high-heeled shoe, would you send them an email all about blue sneakers? Learn who your audience is and precisely what information they are looking for.
3. Back up your email with fascinating content.
Ultimately, email marketing should be part of a holistic approach to nurturing your prospects and leads, and delighting your customers. An email alone is not enough of a strategy to engage your audience. Offer content that is interesting and relevant. The email should be a tool to deliver notification of fascinating content, compelling offers, and updates that directly affect the recipient.
4. Make your emails part of a big-picture strategy.
When marketing to your ideal customers, make sure you have an overall plan in place. Statistics show that marketing that has realistic, specific goals is a lot more effective.
Think about the entire lifecycle of your customer—from visitor to your website, to loyal customer. What strategy would you use to successfully engage a prospect through that process?
Once you understand a buyer's persona you'll then need to understand their needs at different stages of the sales process. Three-fourths of all website traffic comes from users who are in research mode. They are not ready to buy! If a contact form to request a consultation is the only way to engage with you, you will lose those visitors forever.
Map out a strategy that offers your visitors valuable information and education. Create a progression of information that starts out with information that is relevant and valuable to your audience. You can then continue to follow each contact through the process, and continue to offer them deeper knowledge and tools that speak to their pains, concerns, questions or interests.
As they continue to read your content, write a little more about your product or service. Offer case studies or product demonstrations as you begin to build trust in your brand. Once people reach this stage, they may be interested in your pricing, or a possibly a consultation. And your chances of converting a visitor to a lead are higher.
If the contact does become a customer, you also need to have plans in place to continue to engage them with content. If you maintain the relationship with the customer, they may become a promoter of your brand as well.
5. Use tools to carry out your strategy and coordinate your email marketing.
Even though having a strategy in place is highly effective for email marketing, it isn't easy. Make sure you have the resources and system in place to make it happen.
Use publishing calendars and spreadsheets to plan your activities and to show they relate. Be sure to indicate what emails or other marketing activities are triggered at various stages of the buyer journey, and how that activity will be executed.
To get really on top of the game, you can use marketing software that facilitates and integrates processes to help you market effectively, such as Hubpsot.
Don't let your contact list sit around gathering dust. You can make it work for you, if you think about who's on that list, what information would feed their soul, how you can engage with them, and how your email marketing fits in.
Want to learn more on how you can make your email marketing work more effectively? Check out this free ebook: