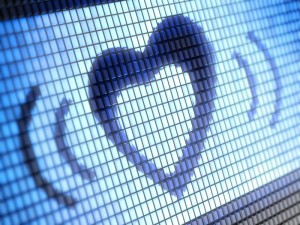 In this age of the internet and online marketing, you may not think having a brochure is important. In some cases it may not be. In many cases, though, it pays to keep your business's brochure alive.
Here are a handful of reasons it may be important for you to breathe new life into your brochure.
1. You want street cred.
These days, anyone can create a business presence online. But when you hold a well-done brochure in your hands, you know the organization is serious—because unlike their website, they can't take it back or change it. It's out there in the world. If they've devoted resources to creating a killer brochure, with high-quality messaging, branding and excellent brochure design, you know they're committed and they're not going anywhere.
2. Your customers go to trade shows, conferences, fundraisers and other events.
There will be tables.
Sure, people are spending more time exploring brands on the internet. But if your customers place a high value on going to one or more events, you need to be there. And when, after having an engaging conversation about their needs and your services, they ask for your brochure, you need to give it to them—preferably with a coupon or other printed offer they can act on.
Likewise, if they're getting a swag* bag, you'll want to take advantage of that opportunity—even though the conversation isn't there to back it up, you're still getting your brand in front of their eyes, and if your brochure includes an offer, it can turn them into a customer.
There are other contexts where the internet is not optimal, such as meetings where you're discussing and sharing information about your business. Or perhaps someone else is promoting your services in a meeting with their colleagues.
(*Fun fact: while people agree that this word started as an acronym, there are differing opinions on what it stands for, including: stuff we acquired gratis; souvenirs, wearables, and gifts; something we all got; salesman with a gift, and stuff we all get!)
3. The internet doesn't exist in the space between two people having a real conversation.
The internet has become so important in reaching out to an audience, and nurturing those relationships. But it is not a complete substitute for real live person-to-person engagement.
Eventually, we leave our homes and offices and spend time with each other. Your customer may not always have access to mobile devices and an internet connection, and they may appreciate holding your brochure to do more research on their purchasing experience. They may want to put a post-it on it and put it on their boss's desk, which—depending on the state of the desk—can demand immediate attention.
Finally, at times, users can get lost in the vast sea of information on the internet. They might be grateful to be handed a concise piece of literature that distills all of the information into the pieces they need to inform their process. There's no getting lost in a brochure.
4. You want to unify and update your message across all of your materials.
If you've ever read Laura Numeroff's If You Give A Moose A Muffin, you know what happens next: he asks for jam. And then more muffins, which requires a trip to the store, which entails borrowing a sweater, and sewing on the missing button, etc. It's a lot of work, but at the end of the day you've got delicious muffins, jam, a good-as-new sweater—and a delighted moose.
When you're creating a brochure, you won't get very far without considering the copy that will go into it. Most likely, you'll try to pull it from your website and other materials, and you'll realize that you need to update those. This may cause you to re-visit your business plan, your target market, your offerings, and your unique selling points.
You may not have set out to update your message across platforms, and it may feel like a hassle, but it's actually a blessing. Because you'll end up with a much, much stronger website, social media, tagline, and more. Out of this process springs a wealth of ideas to speak to your audience.
5. You have good co-marketing opportunities.
On the first floor of Yodelpop's office building is the Milwaukee Cupcake Company (thank goodness I'm not in this office full time)! On the fifth floor is Champagne Studios, a photography business. The cupcake counter downstairs has a little framed chalkboard, with a message to cupcake purchasers to bring their treat on up to the studio for a free glass of champagne.
Bella Caffe—down the street from our office—distributes area businesses' brochures too: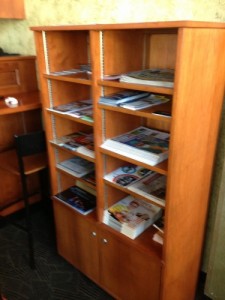 If you're a yoga studio that caters to bohemian intellectuals, having your brochures at the local coffee shop down the street—and vice versa—may be a co-marketing technique you want to explore, and it's not possible without that core piece of collateral.
6. You love the smell and feel of your collateral.
Do you recall opening your first box of letterhead or business cards? The smell of the new paper, the gloss, texture?
Ever been handed a scratch-and-sniff, or a fruit-shaped business card (which we've done for a client), or both? If so, you were probably delighted, and were not likely to forget the connection you made with that business.
Reddit co-founder Alexis Ohanian's book Without Their Permission was published recently. When Kai Ryssdal of NPR's Marketplace questioned him about spreading his message about the internet via the printed book, he said, "I love the smell of books! My house if full of them. I'm quite content with that irony."
As humans, we will never lose our appreciation of and craving for physical objects, our need to engage all of our senses, even as technology careens ahead with more digital engagement.
So, before you cross "brochure" off your marketing plan, brainstorm a list of ways you can utilize this medium to augment your online presence and generate more quality leads for your business. Consider using that old brochure as a springboard for updating your message, possibly even your branding, so that you are handing a prospect a piece of literature that you can be proud of.
NEXT UP:
Creative Brochure Ideas!