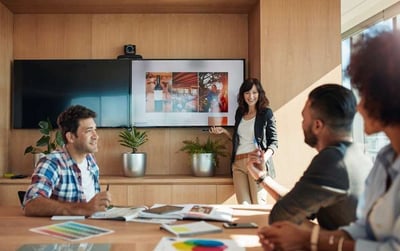 Your boss has asked to you to create a marketing plan, but what does that mean?
For the business, it means setting marketing goals and planning ways to achieve them so the business will succeed. For you, it means you'll have a clear direction when it comes to carrying out your day-to-day marketing work—and concrete signs that you've succeeded.
Sound good?
Below are 8 things your boss wants to see in a marketing plan. Put your information together using this free sample marketing plan and you'll be ready to show your boss a first draft that will knock their socks off.
1. The company's sales goals
Including your current sales goals will put your marketing activities in the context of the ultimate measure of success: sales. You're not going to pull sales goals out of thin air; you're going to gather them from the people at your workplace who generate business. Successful marketing means delivering leads that turn into business, and you won't know how many or what kind of leads you need to generate without some kind of sales goal.
2. Marketing goals
Based on your sales goal, what kind of marketing benchmarks do you need to achieve? Marketing goals are often framed in terms of website traffic, number of leads, social follows and shares, and email clicks. They should always be SMART: specific, measurable, attainable, relevant, and time-bound. (Oh, and that goes for your sales goals, too!)
3. Activities to meet goals
This is the meat of most marketing plans. Do you know who you're trying to sell to? If not, start with creating buyer personas (use this free template). What social channels are your ideal customers on?
Craft a set of social media activities to drive them to your website. Lay down some amazing content blogs and downloadable content to attract them via organic. Get those conversion paths laid down to convert them to leads.
Whatever you do, be sure it is tailored to your brand and identity and spelled out clearly for everyone who will execute the plan. Learn more about planning effective marketing activities in this blog entry.
4. Benchmarks for success
How will you measure your success in reaching your goals? Take your goals and break them down into metrics that show you're on your way to success every month. Profit is probably the first thing your boss will think about, so definitely include metrics that show progress toward sales goals. But also consider your customer base: is it growing? Are you reaching your target market? This is the key to long-term growth and success.
How about customer satisfaction? Understanding your customers and their needs is crucial to keeping your business strong. Finally, don't forget about employee satisfaction. Employees who are happy will want to go the extra mile to exceed goals.
5. Timeframes
For your boss, time is money. Create daily, weekly and monthly milestones to estimate a time frame and to keep track of progress.
6. Allocation of work
It's great to plan exciting, effective marketing activities, but don't forget that they have to actually get done. Remember the "actionable" part of your SMART goals. Allocate projects to team members with specific dates and deadlines. Knowing who is going to do the work that needs to be done to achieve your goals will keep everyone on task and your boss happy.
7. Cost
After the who, what, where, when and why, the first question your boss will have is, how much it will it cost? The details from your marketing plan should be thorough and convincing so your boss isn't left questioning whether there's a need.
Always demonstrate that there will be a return on investment (ROI). The good news is, having your sales goals right there in your marketing plan should make ROI obvious. Whatever you propose spending on marketing should pay off in achieving those sales goals.
8. How you know it will work
Show how you know the strategies and activities you've suggested are the right ones to help you achieve the company's goals. A great way to do this is to include statistics that show your strategies are based on solid research. If possible, use data from your own past marketing efforts. In addition, here's some great data from Hubspot's research.
If you've covered these eight key points in your marketing plan, you're well on your way to promoting and growing your business. To get started, download this free sample marketing plan.