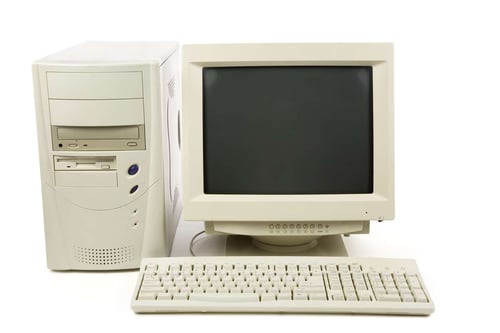 These days, a neglected website is an outdated website, and does not do a brand (or reputation) any favors— it may even be sending users away in horror, confusion, or indifference.
In fact, "outdated website" is at the top of the list of pain points for people who contact Yodelpop for marketing and branding help.
In their own words, here are some of the most common issues they're facing:
We have no engagement or leads.
Our website doesn't showcase our brand.
We're too busy.
Our webmaster disappeared.
Our web content is old and no longer relevant (and we're too busy to do anything about it).
If any of the above sound familiar, and you're worried about what your company or organization's website is doing (or not doing) for its online credibility, use these 5 creative marketing solutions to build a better brand online—and download our 10-Step Checklist for Website Redesign:
1. Create specific goals
Determine which business goal(s) you'd like the website to meet. Go beyond thinking in terms of making a good impression, raising brand awareness, or helping people find the physical location.
Make the goals of the website measurable. By how much do you want to increase the traffic? How many quality leads do you want to get in the next six months?
What do you want website visitors to do, and how will they do it? Do you want users to buy something, make a donation, or become a client? Should they call you, fill out a form, read your blog for more information?
Be as concrete as possible.
2. Walk a mile in the user's shoes
Create buyer persona profiles to make connections between your business goals and the target audience. This will help you craft relevant campaigns for engaging and nurturing website visitors.
Who are the ideal people you'd like to attract to the website? What are they searching for? Are they ready to make a commitment or a purchase right away, or are they looking for valuable information to address their needs and concerns?
Seventy-five percent of internet surfers are in research mode. They probably aren't ready to fill out a contact form or pick up the phone and call —yet. Be sure to think about the ideal prospect's decision-making process and create content that speaks to them at every stage.
3. Add a blog
Blog writing is one of the most effective ways to breathe life into your website. In fact, businesses that blog increase web traffic by 55%. And a business blog is a great way to build your credibility and retain users' interest.
Write to a real person. Search engines are gauging the popularity of keywords based on what real people are searching for. Using your goals and intimate knowledge of your target audience, research which keyword phrases you can parlay into blog topics.
Be sure to focus each blog on one topic and incorporate your keyword phrase (and related phrases) into a post that answers the questions your ideal prospect is searching for.
A blog page can be added without having to make major changes to the website. Use blogging best practices and give users the opportunity to share the content across multiple social media channels. When content is shared in social media, search engines see it as high-quality, which can help your search engine ranking greatly!
4. Simplify, simplify
A sure sign of an outdated website is pages that pack in a variety of information—often in three columns across the page.
Organize web content by goals that align with the overall strategy. Create pages that focus on a single keyword phrase—and goal. Include a call to action that is relevant to that page's content.
Treat your homepage as a bold introduction of your brand, and use it to direct users to the information they are looking for. Make the navigation clear. Reserve a two-column (at most) layout for internal pages.
Don't be afraid of the scroll. Everything does not have to be communicated above the fold. Users can discover information as they go, rather than get bombarded with too much information at once.
5. Track progress
It's great to invest time and resources in improving your website, but to get a return on that investment, you need to see what's working and what's not, and keep making adjustments. The only way to tell if your website changes have actually helped you achieve your goals is to see if and how users are behaving differently. There are systems to track the pages users are visiting, what they've shared through social sharing, which calls to action they've followed, what they've downloaded, and more.
Google Analytics is one basic way to get information on website traffic. But to really see conversion results, you need all-in-one marketing automation software such as HubSpot.
If you need to update your website and want help getting started, contact Yodelpop for a free website assessment, including steps you can take right away to improve traffic and generate better leads.
Bringing an outdated website to the 21st Century goes beyond aesthetics. By creating a plan that ties closely to the goals of your organization or business, and thinking most about who to connect with and how to best engage and nurture them, you can have a website that gets results, instead of gathering dust.