5 Ways to Maximize Your Donor Engagement
Created by Yodelpop Team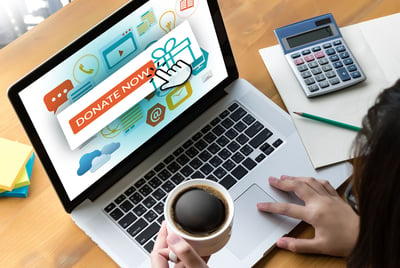 Donor engagement is essential for the success of any nonprofit organization. By engaging donors, you can build relationships, increase loyalty, and encourage repeat giving. There are many different ways to engage donors, and the best approach will vary depending on your organization's specific needs.
But it's important to be intentional with your donor engagement strategies. There are a lot of tactics to maximize your nonprofit content marketing (we even have a guide to help you navigate that journey). Here are five tips to help ensure that your new donors can grow in their commitment and become lifelong supporters.
1. TELL YOUR STORY
When you work in the nonprofit sector, you know the importance of your story. At the end of the day, nonprofit marketing is about passion. There is a reason your brand exists, and you have a compelling story to tell.
Your story should focus on what you do, naturally, but what really inspires engagement is WHY you do what you do. That "why" is how you can really drive home your message in a way that speaks to your donors, highlights what makes you different, and also establishes you as a trusted and worthy cause.
Be sure to highlight the impact of their gifts. Show them how their donations are making a difference in the world. You can also use this opportunity to ask for feedback and suggestions.
When you present your story with inbound marketing approaches like SEO-focused web content and social media messaging, you can show the worth of your nonprofit and engage with donors in a way that only good storytelling can.
2. Establish a Positive Donor Experience
Engaging with a donor isn't a one-time experience. Ideally, you'll be engaging with that donor for years to come, and they'll be able to feel a connection with your cause. People aren't usually interested in donating to an organization regularly unless it is a community that welcomes them, responds to them, and delights them.
You should make it a positive experience when someone chooses to donate to your nonprofit. Here are some ways to do that:
Make it easy to donate.

Sometimes, engaging with your donors is as simple as making it easy for them to become donors. When you make it easy for donors to give, you are more likely to receive their support. You are also more likely to receive repeat gifts.
Be accessible with your messaging

. Potential and recurring donors want to understand your story, but they don't want to deal with confusing or convoluted messaging. By being clear and concise, you can help make the donation experience easy and avoid frustration.
Be consistent with your branding.

You should have a brand guide that your team can easily access. Uneven branding can cause confusion and can hurt your ability to engage with donors; intentional branding can

help you grow

.
3. Don't Limit (or Be Limited by) Your Communication Methods
One of the most important things you can do to engage donors is to communicate with them regularly and effectively. This means engaging with them online via social media and other forums, and sending them newsletters, emails, and other updates about your organization's work. It also means being responsive to their questions and concerns.
There's no single approach that works for all nonprofits. A great place to start is by creating a nonprofit marketing plan. A marketing plan will help you find the best way to use all communication channels, from social media to email marketing, and find what works best for your organization.
4. Make Your Website Work for You
Your website is an essential tool for your nonprofit's growth and your ability to connect with prospective donors. That's why you need your website to work for you.
There are so many ways your website can drive your inbound marketing efforts that we can't begin to list them all, but here is a small sample:
Place calls-to-action on your website

. Any time you can give a potential donor an option to easily give to your cause is a win for donor engagement. Be intentional (and don't overdo it), but make sure your site is a tool that provides value in addition to easy ways to donate.
Focus on user experience.

You don't want your website to be slow, cluttered, or frustrating for users. Not only is that

bad for SEO

, which can limit the ability of new potential donors to find your site, a bad user experience makes a negative impression about your nonprofit's brand and can keep donors from coming back.
Structure your site intentionally.

As you tell your story, you should ensure that your site structure is logical, that the stories you want to tell are easy to find, and that your use of headers and footers is not confusing.
5. Show Gratitude
The most important part of donor engagement is thanking them for their support. This shows them that you appreciate their generosity and that you are using their gifts wisely.
It's an easy thing to say "thank you," but it's not an empty gesture—it has significance. Remember that donors are supporting you, and when you express that you appreciate their support and share the impact of their generosity, you'll find even the simplest of donor engagements will be well received and will lead to a long-lasting relationship between your donors and your organization.
There are many different ways to thank donors. You can send them a thank-you note, make a phone call, or even send them a gift.
By following these five tips, you can engage and retain donors for the important work your nonprofit does. By building strong relationships with your donors, you can ensure the long-term success of your organization.