Creating Your Nonprofit Annual Report: Best Practices and Tips
Created by Audrey Perelshtein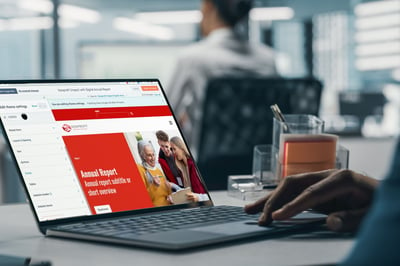 When it comes to nonprofit content marketing, your annual report is a powerful tool. A well-built report uses storytelling and photos to effectively highlight your accomplishments, while thanking your donors and supporters and issuing a clear call to action to keep the momentum going.
There are important steps you need to take in order to create a successful nonprofit marketing annual report, but not every organization has the luxury of devoting serious time and resources to their report.While you need to take advantage of your nonprofit annual report as a crucial storytelling opportunity, there's no singular "right" way to approach it. In this blog, I'll offer options, methods, and formats that we've seen work for organizations, so that you can choose the best approach for your nonprofit and its current capacity.
The Primary Types of Nonprofit Annual Reports
It's helpful to start by dividing nonprofit annual reports into two categories: online and printed. Historically, most organizations have chosen one or the other, but in the past few years, we've seen more organizations use both to reach as many people as possible while setting different expectations for the two formats.
Online Annual Report
You can use your website to publish and amplify your annual report. Within the online medium, there are several approaches you can take.
You can publish a rich microsite filled with success stories, testimonials, videos, and more.
Or, if you don't have the resources to do that, you might create a single landing page that lists the highlights of your performance and success from the previous year.
Printed Annual Reports
Historically, many organizations have printed a saddle-stitched or perfect-bound booklet with, say, 24 pages of information telling their story each year and listing their donors and supporters.
Over time, we've seen more organizations opt for printing just their top-level successes and impact on a single printed page, brochure, or even a postcard, which includes a QR code taking the recipient to the full online version.
You can get help from a nonprofit marketing agency if you want help with any combination of annual report design packages.
Which Annual Report Is Best for Nonprofits?
Now that you have an idea of the options you have at your disposal, you might be wondering what format is best for you.
Printed Reports
Now that you have an idea of the options you have at your disposal, which format is best for you?
What data do you want to share? This is essential no matter how you approach creating your annual report, but with printed reports, you have a limited amount of space and a static format to work with. Make sure that the most relevant and impactful information is shared.

Do you have articles or success stories to highlight? Again, this is essential for both printed and digital approaches, but there's a limit to how many stories you can share in print. Look at your key personas and your goals for generating support, and prioritize which story or stories to include.

How do you interact with your audience generally? How do your supporters typically receive information from you? Some prefer larger catalogs, while others prefer short, single-page reports with a QR code that leads to a website with additional data.

What has worked in the past? Test the impact of your annual reports. If previous reports didn't generate many leads or conversions, try other approaches and compare the results.
Over the past few years, annual reports released only through printed methods have become increasingly uncommon. Most nonprofits find success with a digital-only or hybrid approach to amplify their story most effectively.
Digital Reports
Adding a single page to your site with primary data points and a few top stories (essentially, a digital version of the QR postcard approach) is a fine option, especially if your team is stretched thin. But building a dedicated microsite (more about what that means below) provides better results by leveraging SEO.
Also known as a pillar page, a microsite is a long, feature-rich, authoritative page with internal navigation. It lets you utilize your report to help boost your nonprofit's SEO. Google and other search engines reward you for publishing these pages, which are filled with relevant information, and surrounding them with smaller pieces of related content that link inward to the pillar. So, having an annual report with high visibility for organic traffic can be a tremendous boost for your nonprofit. Related pieces of content, such as blogs, should contain links to that page. For example, each success story for the year covered in the annual report can be published as a blog containing an in-text link to the microsite.
If your annual report is on a large, search engine-friendly site that appears on searches about your organization and keywords relevant to your nonprofit, users who find the page will get to see all of the successes you've had in the previous year and get a sense of how well you are performing.
It's great for SEO, good for storytelling, and you can use this visibility to drive new users to take other actions on your website. For example, you can highlight why people should support your missions right next to a link for donating or fundraising.
While it might seem daunting to build your annual report microsite, there is a drag-and-drop Nonprofit Impact Website Builder that makes it easy with a pre-designed annual report microsite. It's easy to update the colors and fonts and use it to promote your mission with impact metrics, events, featured stories, and more.
What Should a Nonprofit Annual Report Include?
Once you've determined how you want to present your annual report, it's time to decide what you want to include. The design can be beautiful, but unless it contains the most compelling data (whether quantitative or qualitative), the opportunity to share your nonprofit's achievements will be wasted.
When you tell your story, make sure you include:
Your Mission: This is a given. Your mission statement is an essential part of your organization and absolutely needs to be emphasized.
Your Success Stories: Nothing is more inspiring than showing how your hard work has paid off. To really get the most return on your annual report investment, telling these stories through custom-made videos featuring people you've helped or dedicated team members is highly recommended.
Your Impact Metrics: Success stories tell you how you made an impact, but specific metrics tell you what that difference actually was. Both are essential to showing the strengths and achievements of the previous year.
Ways to Help/Calls to Action: Annual reports are not just about highlighting how well you're doing; they should lead to opportunities to continue to grow. Your annual report should be inspiring, and you should use that inspiration to encourage the reader to give back and support your organization.
Images: You've told your story. You've asked for ways to help. But as they say, a picture is worth a thousand words. To really personalize your mission, include images of your team in action, so that donors and partners can see what you do and feel more connected to your organization.
List of Donors and Supporters: Listing donors and supporters, as well as corporate, foundational, or governmental sponsors, shows the breadth of support you have, and it helps those listed feel appreciated for their generous donations and partnerships.


Additional Items to Include
While these are not essential to include, if you really want to make your report stand out, you can also include:
Pictures of Successful Events: If you've held any events over the year, this is a fun way to showcase your organization and reward those who put in the effort to make those events happen.
Key Trainings: If you've had members of your staff take part in key trainings, this can highlight your growth and abilities.
Professional Development: Annual reports aren't just for potential and current donors or partners. They also motivate your staff. Highlight the professional growth of your team, attaching the accomplishments with names and faces as appropriate.
A Message from Leadership: Hearing from leadership and knowing they are engaged is a great way to make the report personable. But don't go overboard. A short, inspirational message is perfect for this communication vehicle.

Infographics and Customized Design:

Finding creative ways to highlight your story and data points can go a long way. While building these kinds of charts, editable pages, or specialized icons to make the page "pop" might seem daunting, there are

easy-to-use annual report design tools

that can help you tell your story with graphics. Make sure to

clarify the story you're telling with your infographic

first before jumping into design.
What Nonprofit Annual Report Is Right for You?
When determining the best approach for your organization, always consider your ideal supporter persona. How would they prefer to receive this information?
Of course, also look at your budget and determine how much you want to spend on your report. When done properly, your annual report can provide a healthy return on your investment.
Whatever direction you choose, make sure to test different approaches, look at data from past experiments, and see what works for you. And if you're not sure where to start, look at organizations you admire and see how they approach it. You might find inspiration for a tactic that works for you.
Your annual report is a crucial marketing tool. By being strategic about how you tell the story of your past year, you can leverage that tool to build up your organization and inspire your supporters.
Audrey is account manager at Yodelpop. She is a full-stack marketer with in-depth marketing and communications experience. She earned a bachelor's degree in communications at the University of Wisconsin-Madison. In addition to strategizing, planning, and overseeing success for numerous Yodelpop clients, she manages Yodelpop's own digital marketing. She also leads our summer internship program!