How and Why To AB Test Your NONPROFIT Marketing Materials
Created by Camille Winer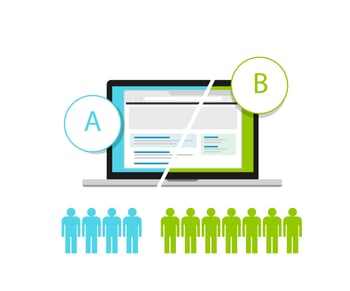 An AB test can be a great tool for nonprofit marketing. Whether you're doing the marketing yourself or overseeing a team, it's important to understand how AB testing works—when to do it, how to do it, and what kind of effort you can expect to put into it.
What Is AB Testing?
AB testing is when you create two versions (version A and version B) of a call-to-action, landing page, email, web page, or other marketing asset. You put them each before an audience segment and see which works better to attract visitors' attention and engage them. Open rate and click rate are metrics often used to determine which version is more effective.
Lindsay Kolowich Cox of HubSpot wrote this useful breakdown on AB testing and what you need to make it work.
Why AB Test?
In marketing, data is used to take the guesswork and subjectivity out of the process and get maximum return on investment (ROI). AB testing in particular lets us test the hypotheses we have about our marketing materials. We use AB testing to "learn what resonates best with target audiences," as Scott Brinker puts it in his book Hacking Marketing. "When we make hypotheses, we can release incremental experiments to see what works, and we don't let our ideas stay isolated too long from the clarifying light of empirical evidence."
AB testing does require time and training. But used correctly, it will multiply the effectiveness of your emails, advertisements, calls-to-action (CTAs), and other marketing materials enormously. In terms of ROI, it's better to do one thing that you know is going to get results rather than four or five that are just shots in the dark.
When Should You AB Test?
Let's start with when NOT to do it:
DON'T do AB testing to make basic marketing decisions about your campaign or your strategy.
DO do AB testing to fine-tune your marketing materials and to make decisions in cases where you truly can't know what's going to work without trying it.
When you're planning a campaign or creating a specific CTA or email, start with a solid inbound marketing methodology. From there, use testing to turn what would be subjective decisions (Which subject line is best? Is this type too small? Which image should I use?) into objective ones.
Below are the results of an AB test that we did for a client using HubSpot. In this case, the change was as small as adding an emoji to the subject line. There was a clear winner. We were able to send this marketing email with the full confidence that we'd maximized the client's marketing investment.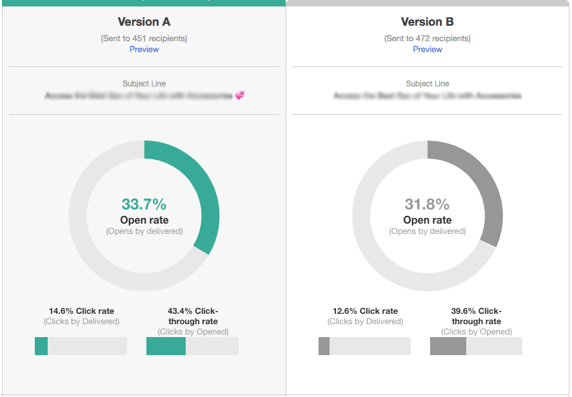 Basic Steps for AB Testing
Here are the basic steps to doing an AB test:
Choose your metric.


Decide what metric is going to determine which version is more successful. For web pages and CTAs, you're most likely looking for clicks. But with emails, you could be testing either open rate or click rate.

Create your CTA, email, web page, or other asset.
This is version A.
Clone it.
This is version B.
Make one change.
This change must be something you question in terms of which version will result in the better conversion metric. Typical aspects to test include:
Appearance: Font, color, size, specific image, placement of image, etc.
Wording: Different verb in CTA, different text in subject line, etc.


Keeping changes confined to one aspect or one item allows you to easily determine what ultimately influenced the viewer to open or click.

Split the audience.
Direct half of the viewers/recipients to design A and the other half to design B.

Marketing automation tools such as HubSpot automate this, selecting the right test lists for you and avoiding critical errors that can void your results.

Analyze the results.
Look at the metric you selected above. Which version performed better?
Publish.
Publish or send the version that was more successful.
AB testing is a great tool for internet marketers looking for ways to improve their conversion rates. Conversion rate optimization helps visitors move in the direction of building more permanent relationships with your company or organization. Something as simple as slightly altering your CTA button or landing page can lead to a noticeable difference in clicks and conversions.
Camille is co-founder at Yodelpop and is web and creative director, as well as designing strategies, processes and programs around the HubSpot growth stack system. Camille lives in Highland Park, Illinois, with her husband and two sons. She was president of her high school theater guild and still enjoys a little drama from time to time.