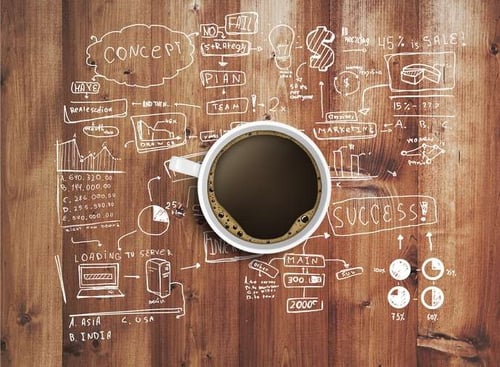 Look at the website of a company that's successful at marketing and you'll find a resource hub, loaded with content that their ideal customers can access when they're ready.
They talk little about their brand, and instead demonstrate their unique value to the buyer with blog posts and case studies that position them as experts in the field.
Today, a company's most powerful marketing collateral are no longer sleek sales sheets, but online or downloadable content that helps people make smart purchasing decisions. Marketing collateral has to be:
Accessible
Relevant
Helpful
Your marketing collateral has to meet your ideal customer at his or her current phase of the buyer's journey.
So where do you start? Create a marketing collateral checklist, and focus your resources on the collateral that will get you the most return on your investment and that will ultimately help you achieve your goals.
Here are 5 key pieces of collateral that you need right now:
Mission Statement
A powerful mission statement is aspirational and drives an organization forward. Buyers are attracted to companies that are driven by meaning and consideration for the broader world; it's not just about products and services.
The company's mission statement is the number one marketing asset. It is a statement that is short in length, but long on vision. If your organization isn't clear about its own mission, customers and other stakeholders won't be either.
Buyer Persona Profiles
An ideal buyer persona is a detailed profile of your ideal customer or supporter. It gets you in their shoes, and so you can be in touch with the challenges and thinking that brings them into the buyer's journey.
Personas are created based real data about existing customers and includes customer demographics, attitudes, concerns, goals, motivations, and behavioral patterns.
By understanding your ideal customer, you can align your marketing strategies to achieve goals. By staying current with how your ideal customer are, you can turn new customers into long-term relationships as well.
Content Strategy
According to the Content Marketing Institute, content marketing is reported to get three times more leads than paid search–and we've seen this over and over with our clients.
A content strategy is a plan that guides future content development. It is based on careful planning that starts with your mission statement, your business goals and your buyer personas. A content strategy will rely heavily on the main topics that bring customers to your business.
At the heart of a good content strategy are your pillar pages. A pillar page is a comprehensive informational page that focuses on core topics that are highly relevant to your customers' challenges and goals. The pillar page links to supporting topics that expand further with subtopics.
The subtopics (blogs) are organized around the pillar page and link to the pillar page, creating internal 'link juice' that helps your website boost authority in search for those topics. This is why your content strategy should be the main focus of your search engine optimization strategy.
Tracking the performance of content helps you understand what topics perform well in terms of drawing traffic and converting visitors into leads, and leads into customers.
Video
According to a study compiled by HubSpot, Using videos on landing pages will increase conversions by 86%. Video marketing provides content in a highly shareable format that generates traffic and maximizes search on video search engines such as YouTube. Video is also a great way to drive traffic to other content or areas of your site, and generate leads.
Video doesn't have to be high-tech or high-cost to earn viewers. In the human-centric marketing of today, trust and authority is gained by being authentic helpful in a straightforward manner.
Email
Email marketing continues to be a key touchpoint to maintain contact with your leads, as well as customers. If done correctly, email is an effective relationship building tool, and can have a positive, direct influence on revenue.
Types of email marketing assets include monthly content or informational newsletters, automated email nurturing sequences that are tailored to different contacts, sales, automated lead nurturing sequences that allow marketers to be more efficient and consistent with an email marketing strategy and ecommerce product and abandon cart emails.
In order to build trust with your contacts, your email strategy needs to be 100% permission based. Emails should be tailored to each persona and / or phase of the buyer's journey. A / B testing can be an effective tool in refining email marketing assets. Periodically test different days, times, subject lines and other formats to land on the variation with the most opens, clicks and engagement.
Other content - as needed
In addition to these 5 key pieces, look at what your competition is doing and assess whether or not it's working for them. You may be in an industry where case studies or ebooks are particularly compelling to your prospects. If so, just remember to choose what is best for your brand and what will get you a return on your investment.