Creating a Winning Nonprofit Email Marketing Strategy
Created by Cat Capellaro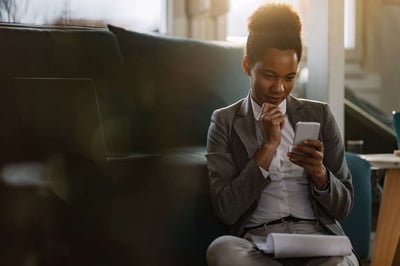 If your nonprofit is struggling to create a consistent and engaging marketing email strategy, you're not alone.
We've all seen email newsletters or communications that don't hit the mark, sound overly promotional or disingenuous, or are just plain unhelpful. Those emails often end up unread, in the trash. And to be honest, maybe some of them belong there.
But here's the good news: You have the capacity to develop an email strategy that is creative, delightful, engaging, and effective.
Email marketing is still a cost‑effective way to increase your organization's reach in ways that align with your mission. So don't despair. You already have all the creativity and content you need. The tools and resources for an effective nonprofit email marketing strategy are already at your fingertips.
Isn't Email Outdated?
No! It's really not. Even if it seems like social media platforms have overtaken email as a marketing technique, email is one of the most effective ways to cultivate a personal connection with an audience, and even—wait for it!—millennials.
That's right, even the tech‑savvy generation thinks email is the most personal channel to receive communication from brands. A BlueCore brands report study showed that 74% of Baby Boomers, 72% of Generation X, 64% of Millennials, and 60% of Generation Z said that email was the most preferred and most personal way to communicate. Of course, those younger folks are looking at emails on their smartphones. That's good information for marketers because almost 1 in 5 email campaigns is not optimized for mobile devices.
That fact comes from a HubSpot aggregation of recent statistics on email marketing that provides some compelling reasons to invest resources in an energetic email marketing strategy.
4 billion people use email every day.
64% of small businesses reach customers via email marketing.
Marketers using segmented campaigns report significant increases in revenue—as much as 760%.
78% of marketers saw an increase in email engagement in the last 12 months.
Successful email marketers have become adept at getting the right content to the right people. That's how you increase open rates, the first step to further engagement.
Metrics Matter
Email marketers have to look at the metrics. If you're not able to review the performance of your existing emails, you're operating in the dark. Many email programs, such as Constant Contact and MailChimp, make it possible to review your metrics. And all‑in‑one marketing software like HubSpot provides graphic dashboards that show
Open rate
Click rate
Unsubscribes
Undeliverables
A poor open rate is the clearest indicator that your email strategy—and your list—need help.
A Good List = Getting Emails to the Right People
You can work all you want to craft scintillating subject lines, but if your emails aren't getting opened, the first place to look is your list.
Is your list fresh and useful? Or outdated and overly broad? Scattering emails willy-nilly using a purchased list is not a great strategy for reaching the people you need to reach. You want to build a list of people who actually want to hear from you.
Here's a template that can help you build a nonprofit marketing plan that includes an excellent email list.
The most effective emails use segmentation. That means learning something about the people on your list and then making sure that you are giving them what they're looking for. It can be as simple as asking, "What's your biggest challenge?" or "Which of the following describes you?" on your download forms. This information helps you learn what kind of content would be helpful to share with them in an email.
If you're not gathering the right information to segment your lists, you might need a refresher on the inbound marketing methodology. In a nutshell, it's a strategy that focuses on attracting the right visitors, then cultivating relationships with them by sharing meaningful content.
Tips for Effective Marketing Emails
HubSpot's Ultimate Guide to Email Marketing is full of great advice for crafting an email strategy. They define the components of a successful marketing campaign as:
Copy: The copy in the body of your email should be consistent with your voice and stick to only one topic.
Images: Choose images that are optimized for all devices, eye-catching, and relevant.
CTA: Your call-to-action should lead to a relevant offer and should stand out from the rest of the email.
Timing: Based on a study

that observed response rates of 20 million emails, Tuesday at 11 AM ET is the best day and time to send your email.

Responsiveness: 55% of emails are opened on mobile

. Your email should, therefore, be optimized for this as well as for all other devices.

Personalization: Personalize your email in ways that your personas will find appropriate and appealing. Be personable, and address your reader in a familiar tone.
Subject Line: Use clear, actionable, enticing language that is personalized and aligned with the body of the email.
Make Your Emails Relevant and Awesome
You can understand all the metrics, have a great list that's segmented and targeted, and still struggle to engage with your audience—if you don't pay attention to the content. It comes down to this: To get readers engaged with your email content, you need to be sending them information that they find useful and that they want to share.
As a nonprofit organization, you have a head start. You have a wealth of educational, inspiring material related to your mission. Tap into that material to create content for your emails.
In a recent Yodelpop blog post, account manager Cori Albrecht shares 8 ways for repurposing content you already have at your fingertips. You don't need to reinvent the wheel. You have blog posts that can be updated and refreshed, white papers, testimonials, statistics, and plain old‑fashioned stories to share. You just need to take stock of what you have, start putting it out in the world, and watch the metrics to see what's working.
Are you excited about sending your email? I know I am.
Cat Capellaro is a writer at Yodelpop. She is a musician, playwright, and journalist whose work has included serving as arts and culture editor of Isthmus in Madison, Wisconsin, managing editor of Rethinking Schools, and reporter for Wisconsin Public Radio and WORT-89.9 FM.