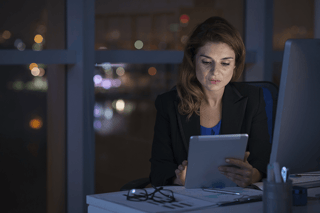 According to MedCity News, 86% of patients conduct a health-related search on the internet before scheduling a doctor's appointment. They are researchers, looking online for information about diagnoses, treatment options, even costs. By the time they pick up the phone, they are empowered and informed.
Because today's healthcare consumer no longer trusts blindly, the healthcare provider they're looking for must be someone they trust. As that healthcare provider, you can start to build that trust through your online presence.
By using the power of your website to convey quality information, you'll showcase your knowledge and experience, which can go far in attracting new patients and keeping the ones you have. You'll also add more pages to your site, which improves your search ranking. Simply put: A 100-page website will beat a 10-page website 99% of the time.
Following these three tips will help you build this content efficiently and strategically.
1. Write with purpose
Be intentional about who you want to reach with your content. This involves creating key personas of your current patients, ideal patients, and prospective patients, along with additional audiences you want to target.
It also involves researching and using strategic keywords that your audiences will identify with and search for. For example, if you are a dentist, you may be apt to use a term like "TMJ." But for your patients, a term like "jaw popping" may resonate better. Remember to write for them – not for you.
2. Inform, don't sell
Patients and prospective patients are not looking for a sales pitch. They're looking for quality, accurate information that they can use to make an informed decision. Draw from your healthcare expertise to provide relevant information about the services you provide and what your patients experience. Let them know details about symptoms, risk factors, treatments, and outcomes. Be professional and knowledgeable.
3. Present options
While you may provide Service A, be straightforward and forthcoming about Services B and C if it's relevant to your patients' decision-making process. Also set expectations, if applicable, about the cost of services.
Changes in healthcare legislation have raised patient awareness of expenses and what their insurance will and will not cover. Being honest about alternatives and other approaches builds your credibility and increases patient trust.
Following these tips will help you continue to add more and more content to your website over time. It will increase your number of pages, and establish credibility and trust that will boost your patient pool. And with all your healthcare knowledge and medical expertise, it will be easier than you might think to generate ideas and start writing.
For more information on building your medical practice and attracting new patients, download our ebook How to Create a Digital Strategy for your Healthcare Organization.